You Can Now Use USDC over Ethereum on Bitrefill!
Bitrefill is making sure to follow crypto adoption trends in order to offer the most flexible and up to date service there is on the market. It's for these reasons that we just added USDC as a supported coin on the Bitrefill platform. From now on you can top up your balance, pay for your bills and buy gift cards using USDC on Ethereum on Bitrefill.

Living on Crypto has become truer than ever.

Where does USDC come from ?

USDC is born from a partnership with Coinbase and Circle, two of the biggest cryptocurrencies companies in the world. It was initially launched on the Ethereum blockchain as a native ERC-20 token. That means it is also compatible with other blockchains and services that support the ERC-20 standard. Nonetheless, after its initial launch in 2018, USDC development efforts have expanded the USDC token to work on other blockchains like Algorand, Solana, Stellar, TRON, and Flow. Bitrefill at the moment only supports the original version launched as an ERC-20 native token.
Check out the following link to see if your favorite cryptocurrency exchange, wallet and services support USDC.


The Growth of USDC and Stable coins

With over $6 trillion in on-chain transactions as of September 2022, Circle's USDC is one of the world's fastest growing stablecoins for businesses and institutions.

USDC helps to solve the decades-old money-supply bottlenecks by enabling everyone to send value around the world almost instantly, with transaction costs that are a fraction of traditional payment rails.

At the time of writing, USDC is the fourth largest crypto in terms of capitalization, right behind its analogue Tether. Bitrefill also accepts USDT ERC 20 and USDT TRC20 if those are your preferred stable coins.

As you can see with the chart below, since its inception USDC growth has been unstoppable. From its launch, USDC has grown to a total market cap of 55 billion US dollars at the time of writing.

This sum will likely fluctuate in the future as the number of USDC tokens depends on how much real USD dollars or financially equivalent instruments are backing the total number of tokens. USDC tokens are created when a dollar is deposited on a 1:1 ratio and are consequently destroyed from the network if one customer wishes to redeem them back.  

However, considering the current adoption of stable coins across the world and their growing utility across financially disadvantaged and underbanked communities, it is likely that the market capitalization of stable coins will continue to grow.

Bitrefill stays on top of adoption trends so everyone in the world can Live on Crypto.

How to Use USDC on Bitrefill
Good news is you can use USDC on Bitrefill without even having a Bitrefill account. Isn't that amazing. In fact you can always use Bitrefill services without an account but then you won't accumulate precious rewards and cash-backs.

Here are the two ways to use USDC on Bitrefill.

1st way: Use USDC without a Bitrefill account or without a topped up balance

You can use USDC directly by sending it from your wallet or exchange to the address provided to you once you're ready to pay for your basket of Bitrefill products.

Simply select the USDC (ERC20) option as your external payment and follow the provided  instructions for the transaction.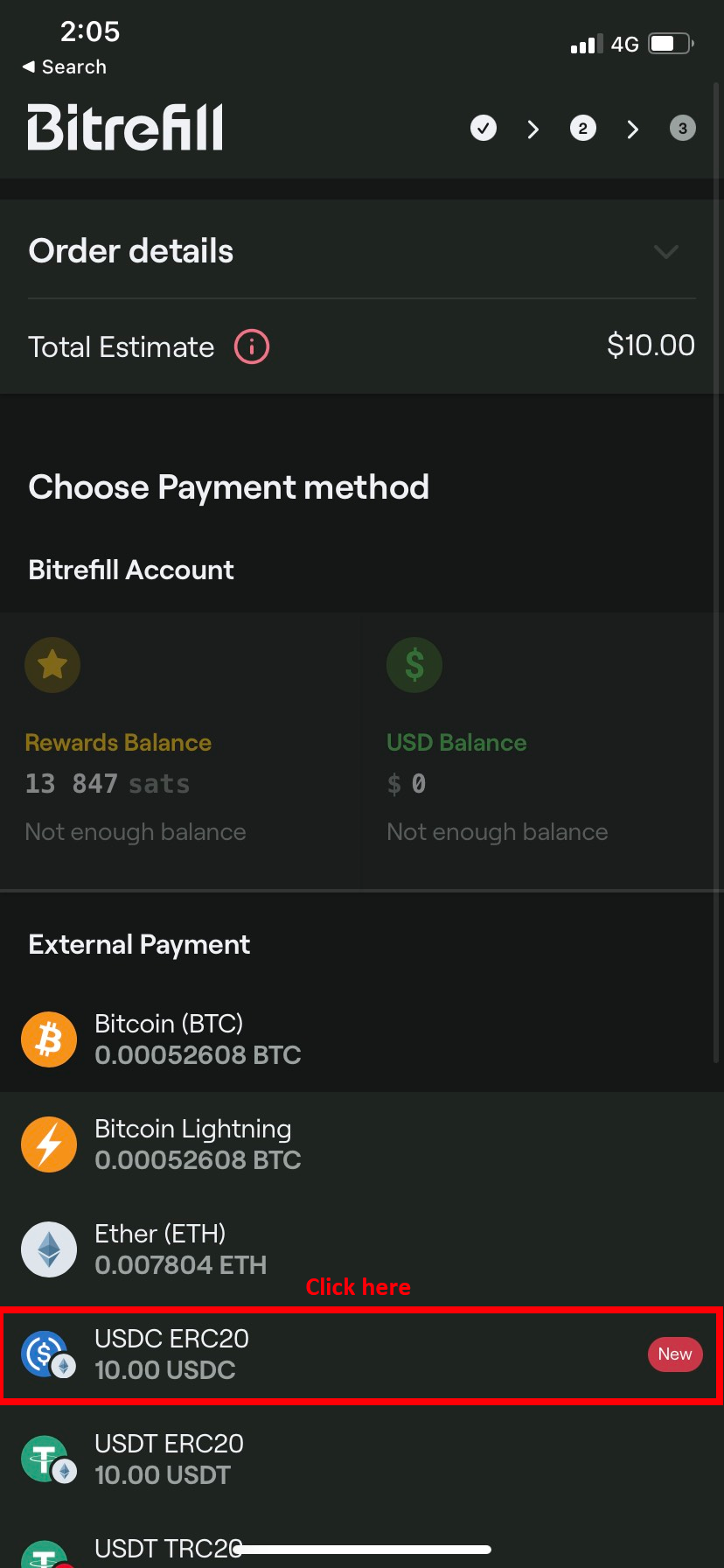 2nd way: Top-up your USDC balance and pay with your USDC balance

You can also top up your balance in advance to make your purchasing process simpler and faster by following the steps below:
Step 1 -  Creating a Bitrefill account
To get started, you need to create a Bitrefill account. (If you have one, jump to step 2.)
It's super easy, only takes a minute, and only requires an email address. Navigate to bitrefill.com, and click on the account button in the upper right hand corner left to the shopping cart button.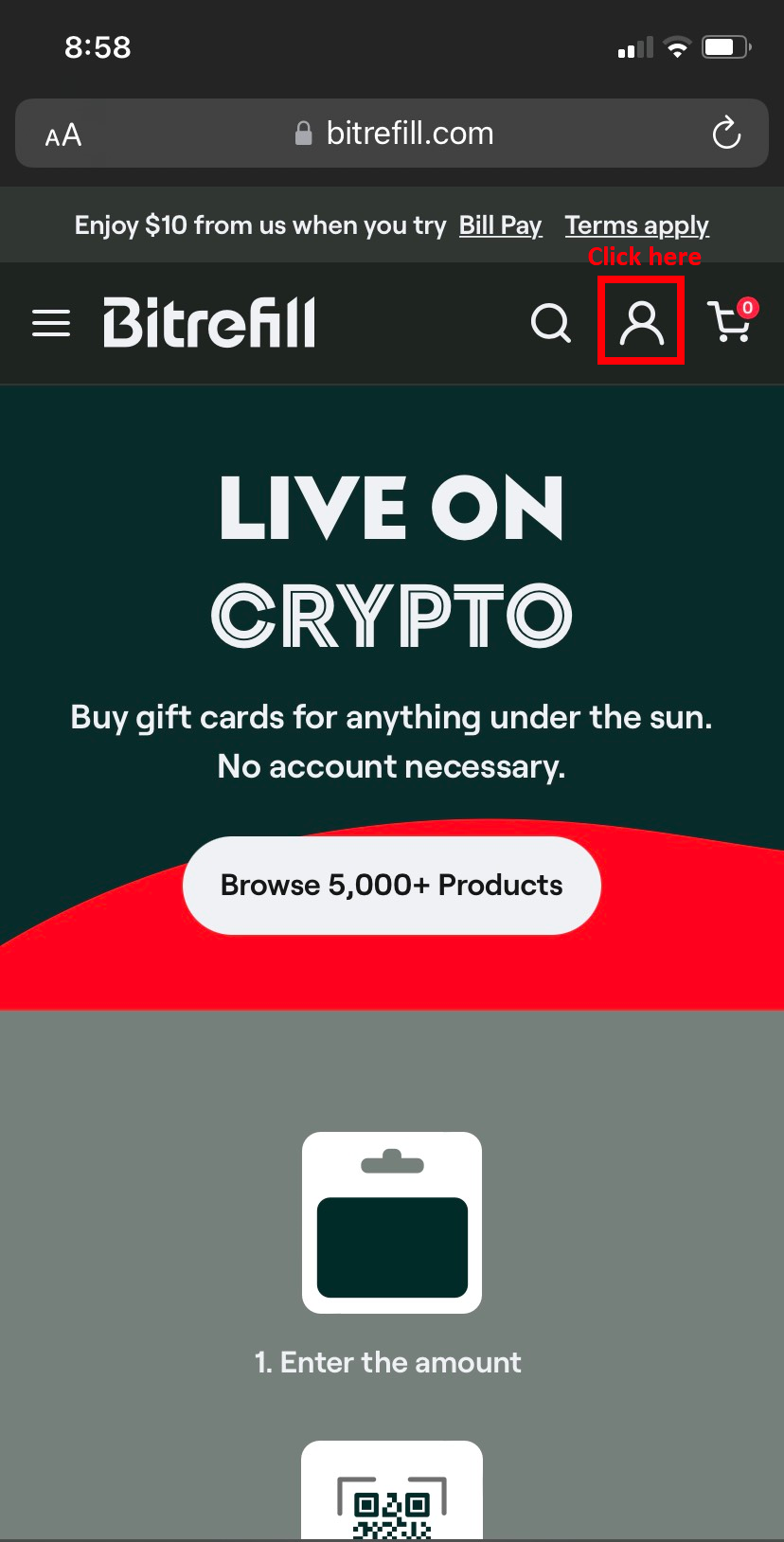 You will be redirected to a new page where you need to click on <<create one here>>.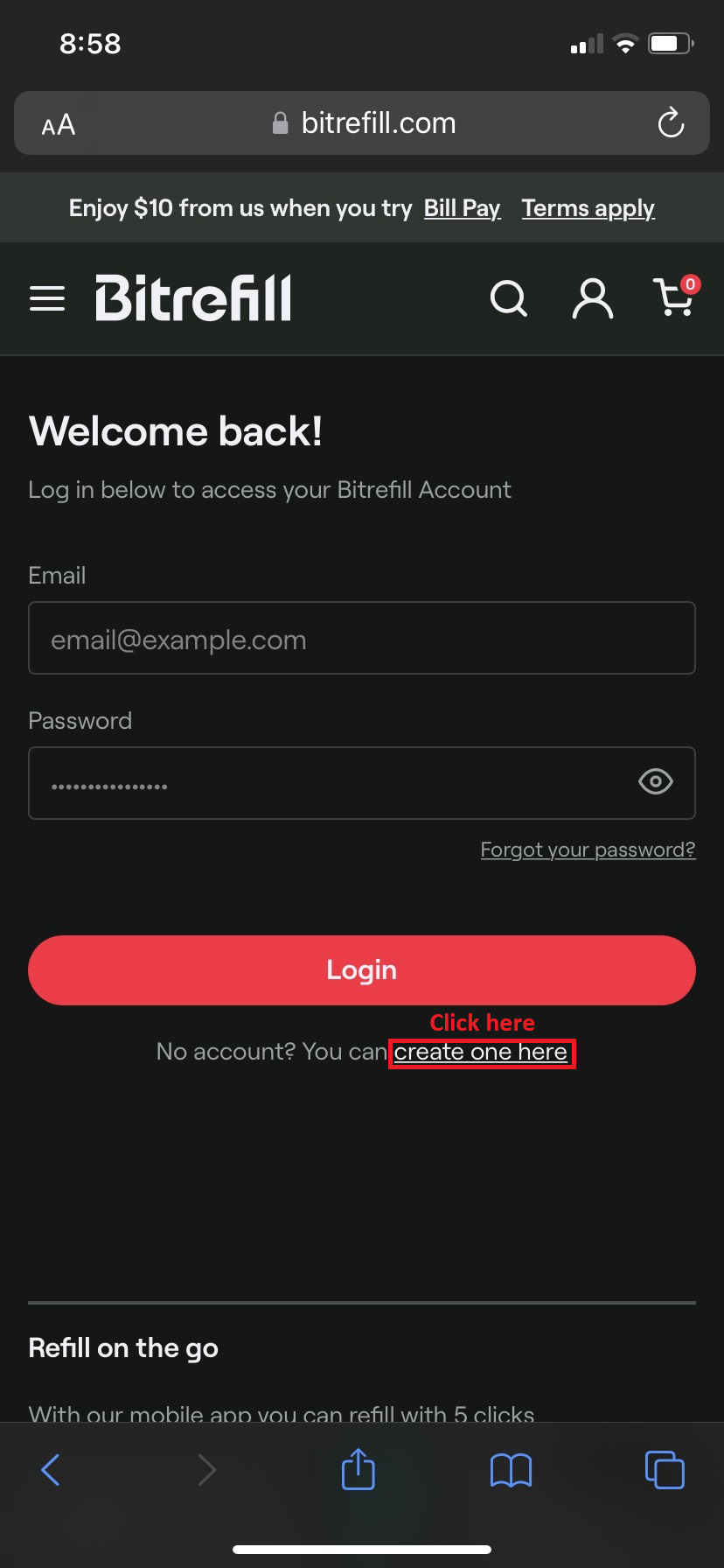 Again you will be directed to a new page. You'll need to add an email address under your control and a password.  Confirm that you accept the terms and conditions and choose if you want to receive our newsletter and sporadic promo emails.  Next you'll need to go to your email and confirm the email address.
Step 2
Once you've confirmed your registration email. Login to your Bitrefill account and click on the account button in the upper right hand corner left to the shopping cart button.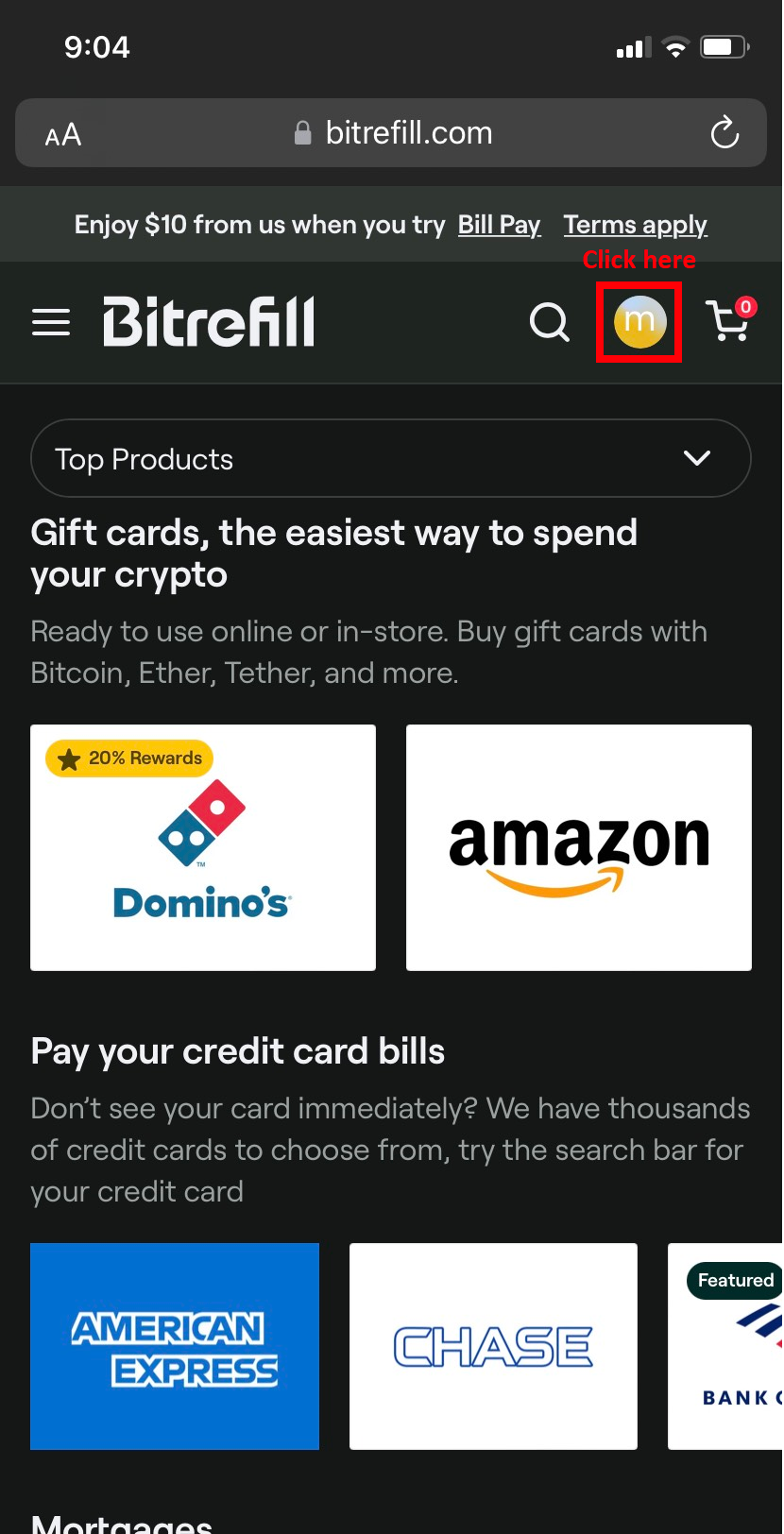 Next, click on your email address to be taken to your account page.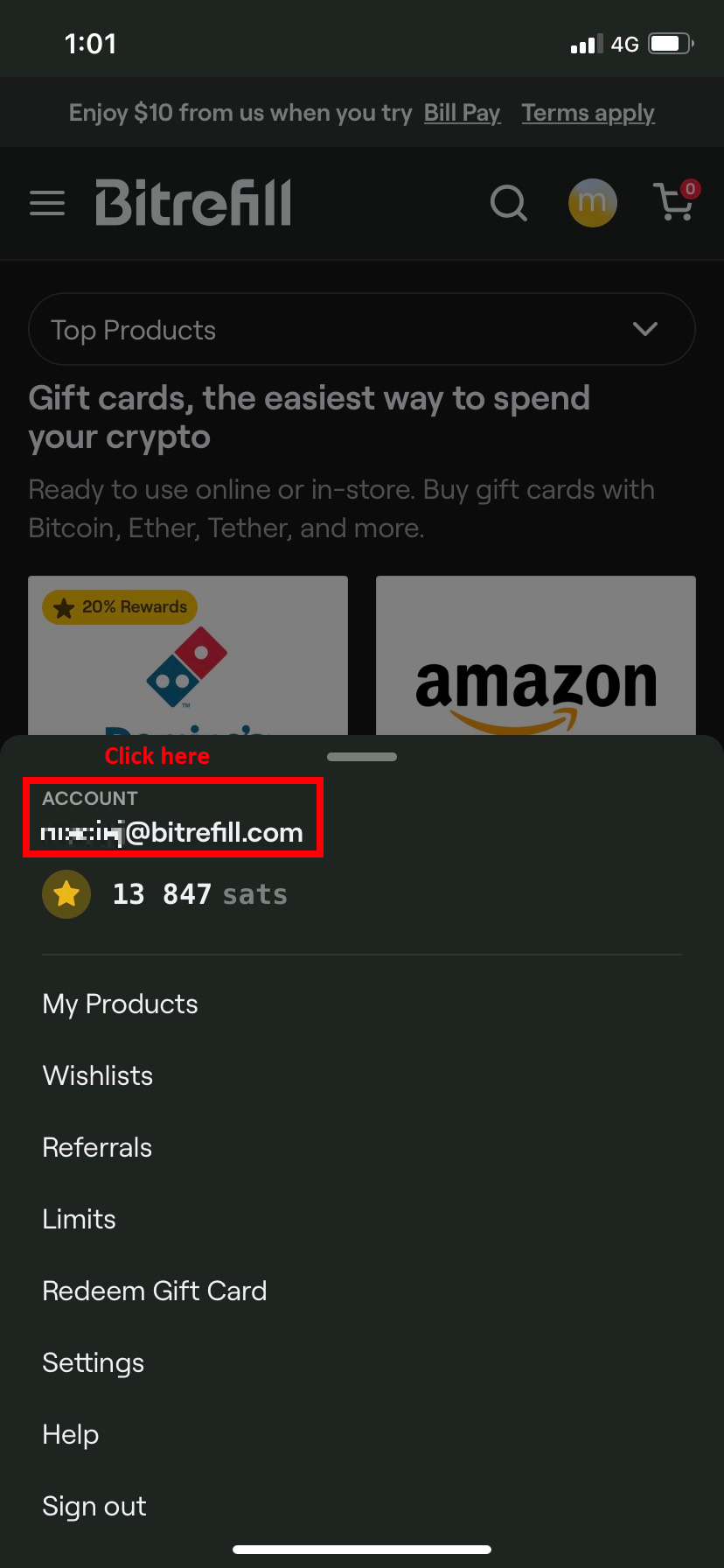 Step 3
Now that you're on your account page which shows your account balances, click on the big red button that says ADD FUNDS. This will take you to the Top-Up Balance page.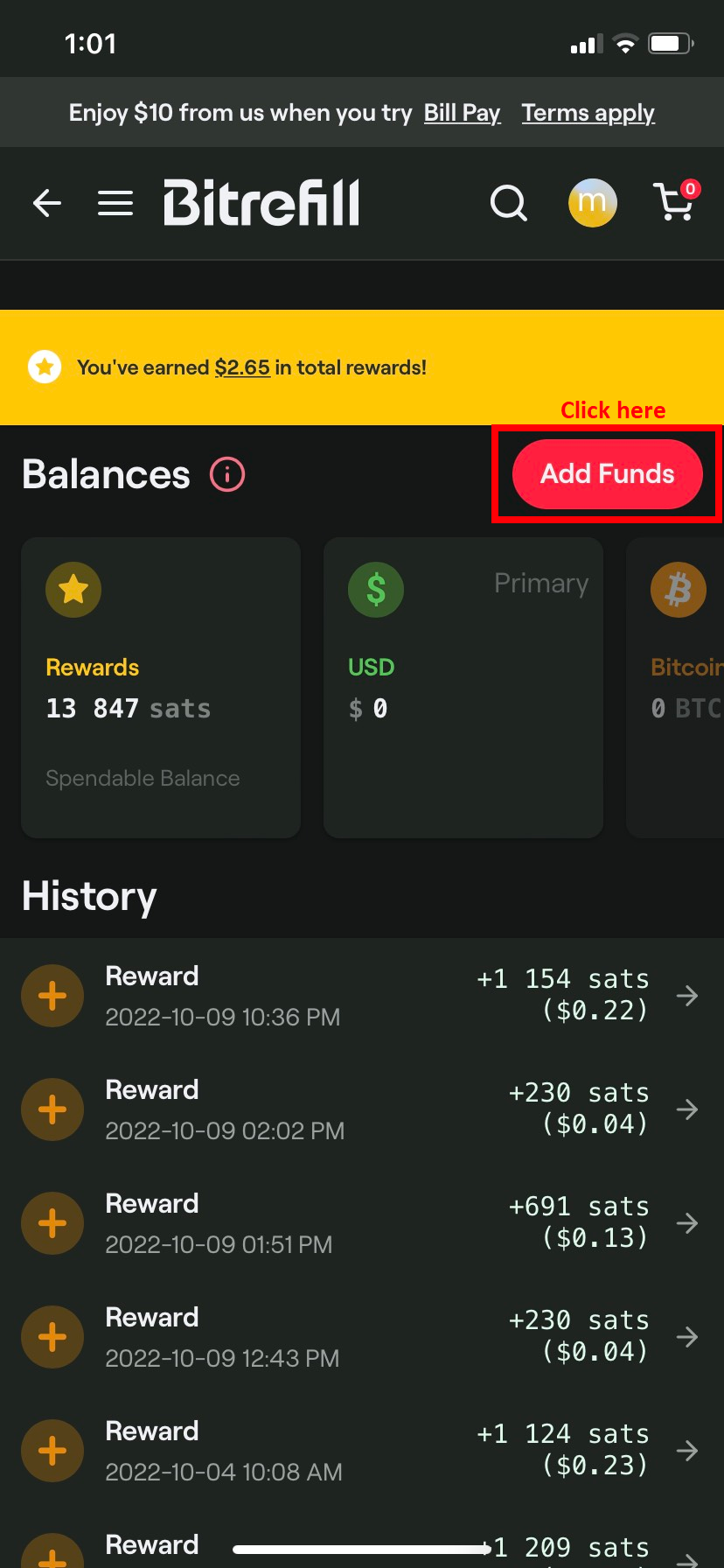 From the Top-Up Balance Page, you'll see an option to choose "from" and "to".
Click on "from" and choose if you want to add funds with USDC.
When you add funds with USDC, you'll need to choose which Bitrefill balance you want to add the credit to. You can choose between USD and EUR.
Once you have chosen, follow payment instructions as provided in the app to finish topping up your balance in USDC.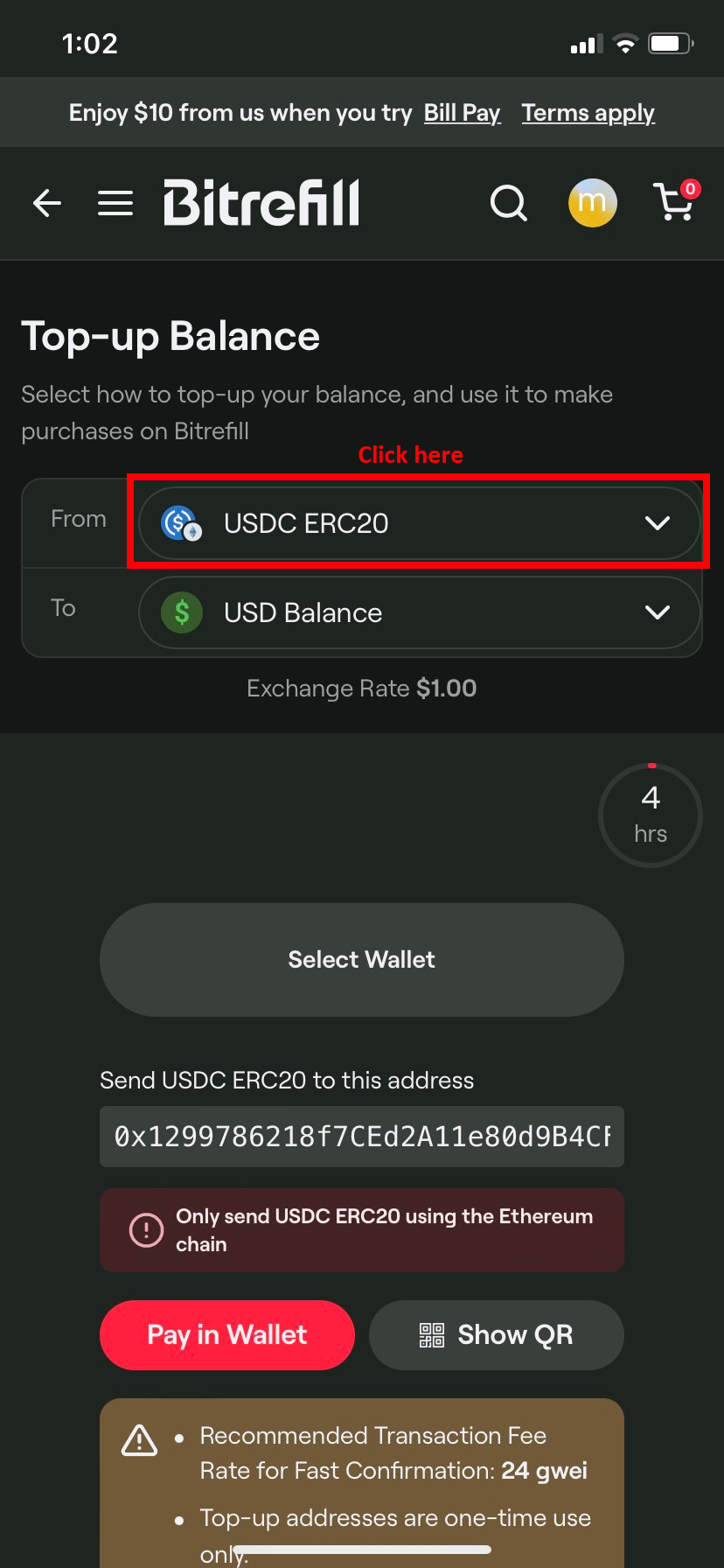 Step 4
After 4 on chain confirmations on the Ethereum network, you'll see the amount added to your chosen Bitrefill balance, and you're ready to make a purchase.

Now that you've added funds to your Bitrefill account, you're ready to shop for more than 5000 gift cards, bill payments and mobile refill products in 180+ countries. Enjoy everything we have to offer, as the world's largest crypto store.
Bitrefill account holders also instantly receive 1-10% Bitcoin-back rewards on every single purchase!
Get started today by following this link!