Over the past decade, Bitcoin has seen a dramatic increase in popularity. This has led to more infrastructure and service providers, as well as more ways to buy and sell Bitcoin. One of the first tools that made Bitcoin available to the public were Bitcoin ATMs.
It's no secret that Bitcoin ATMs have been on the rise in popularity in recent years. In 2015, there were only 500 BTMs installed globally. But by 2017, that number had risen to an impressive 2,000. And as of January 2021, there were almost 15,000 machines installed worldwide.  Over the past year, we've seen this number double to more than 38,000, globally.
Although Bitcoin ATMs are located worldwide, the great majority of these are situated in North America with 83% in the US and Canada. Europe is the second most prominent region for BTM access, with 3.8% of the market share; Asia is third with 0.7%; Latin America falls fourth with 0.2%.
The 10 Countries with the Most Bitcoin ATMs

United States - 33,919 BTMs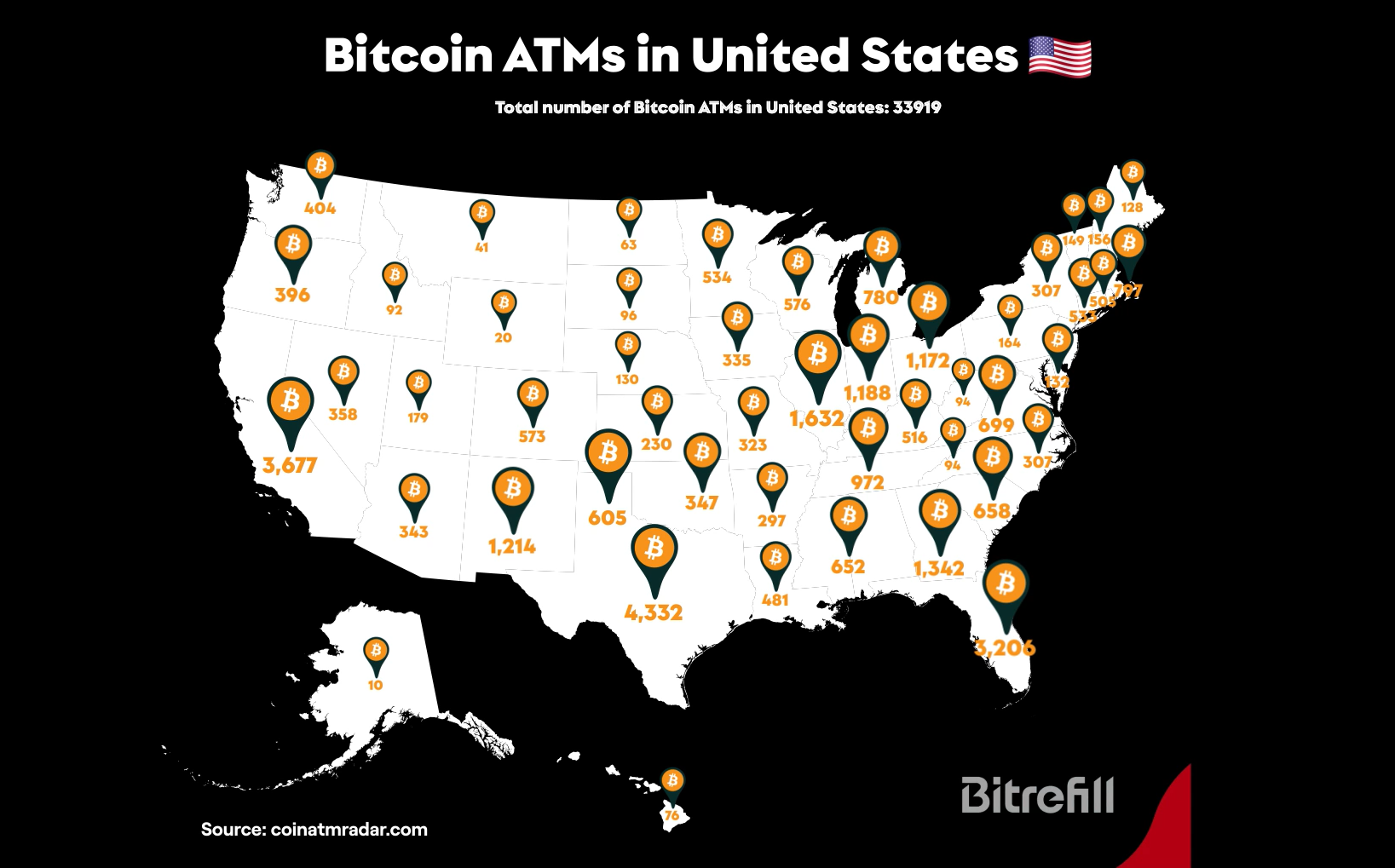 Cryptocurrency ATMs have been increasing in number across the United States, with over 33,900 ATMs as of 2021. These machines offer convenience and accessibility for people looking to buy or sell cryptocurrencies. Most machines are owned by private companies and typically located in local stores and gas stations; however, some bigger corporations like Circle K and Walmart have begun to install them as well.
Canada - 2,537 BTMs
Purchasing Bitcoin from a Bitcoin ATMis a lot like using a cryptocurrency exchange. The process is no longer tedious and many Canadians are beginning to see Bitcoin ATMs as a viable way to acquire cryptocurrencies. Online exchanges have become the norm, but Bitcoin ATMs were the first place you could purchase Bitcoin. The first one in the world popped up in Vancouver in 2013. You can find them in convenience stores throughout Canada, as well as malls and various coffee shops.
Spain - 194 BTMs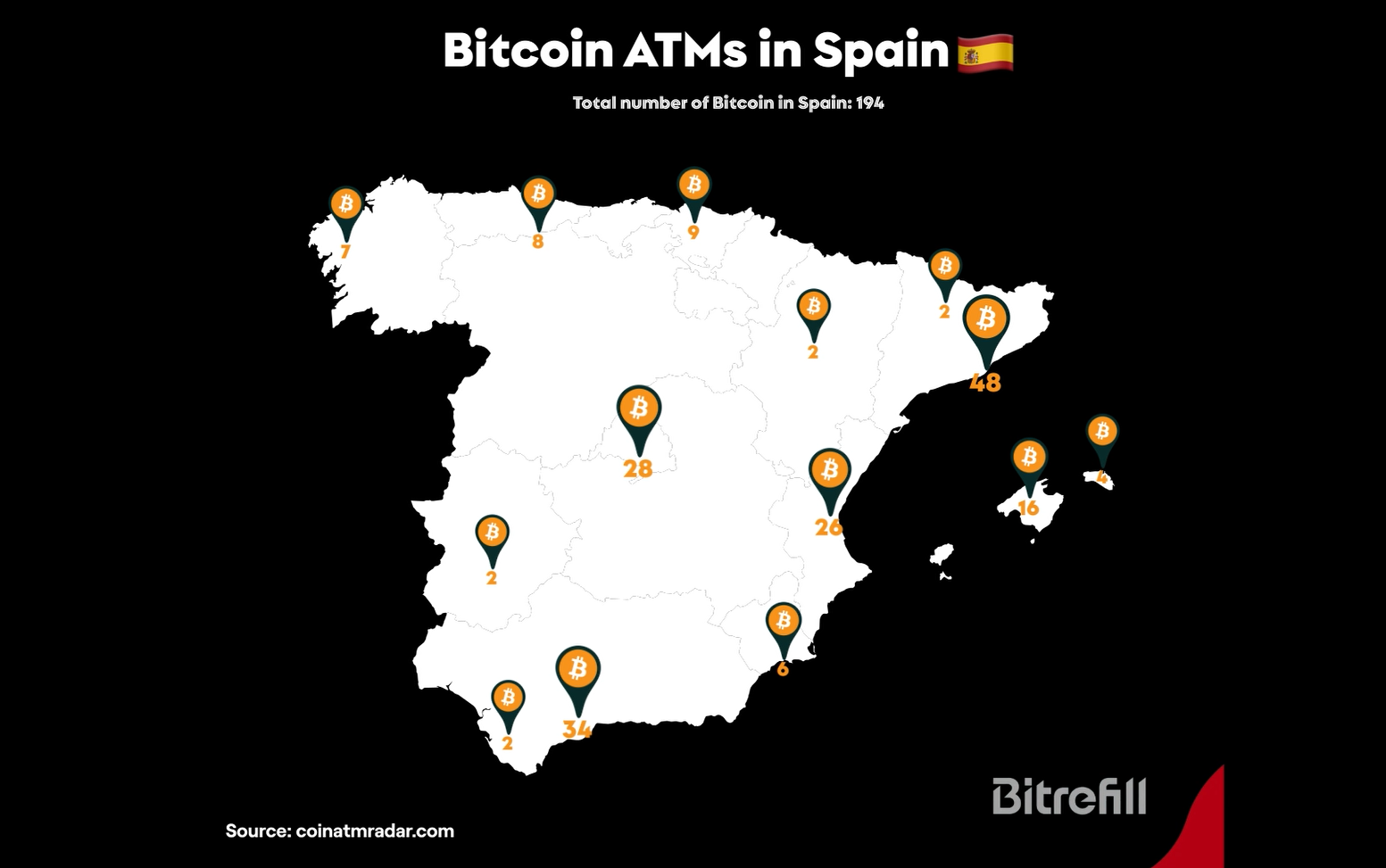 According to Coin ATM Radar, Spain has 194 Bitcoin ATMs. This may not seem like many, but it puts Spain in a better position than many other European nations. The majority of these ATMs are located in major cities like Barcelona with 58 BTMs and Madrid with 41. Other cities with a significant concentration of Bitcoin ATMs include Malaga with 14 and Palma de Mallorca also with 14.
El Salvador - 212 BTMs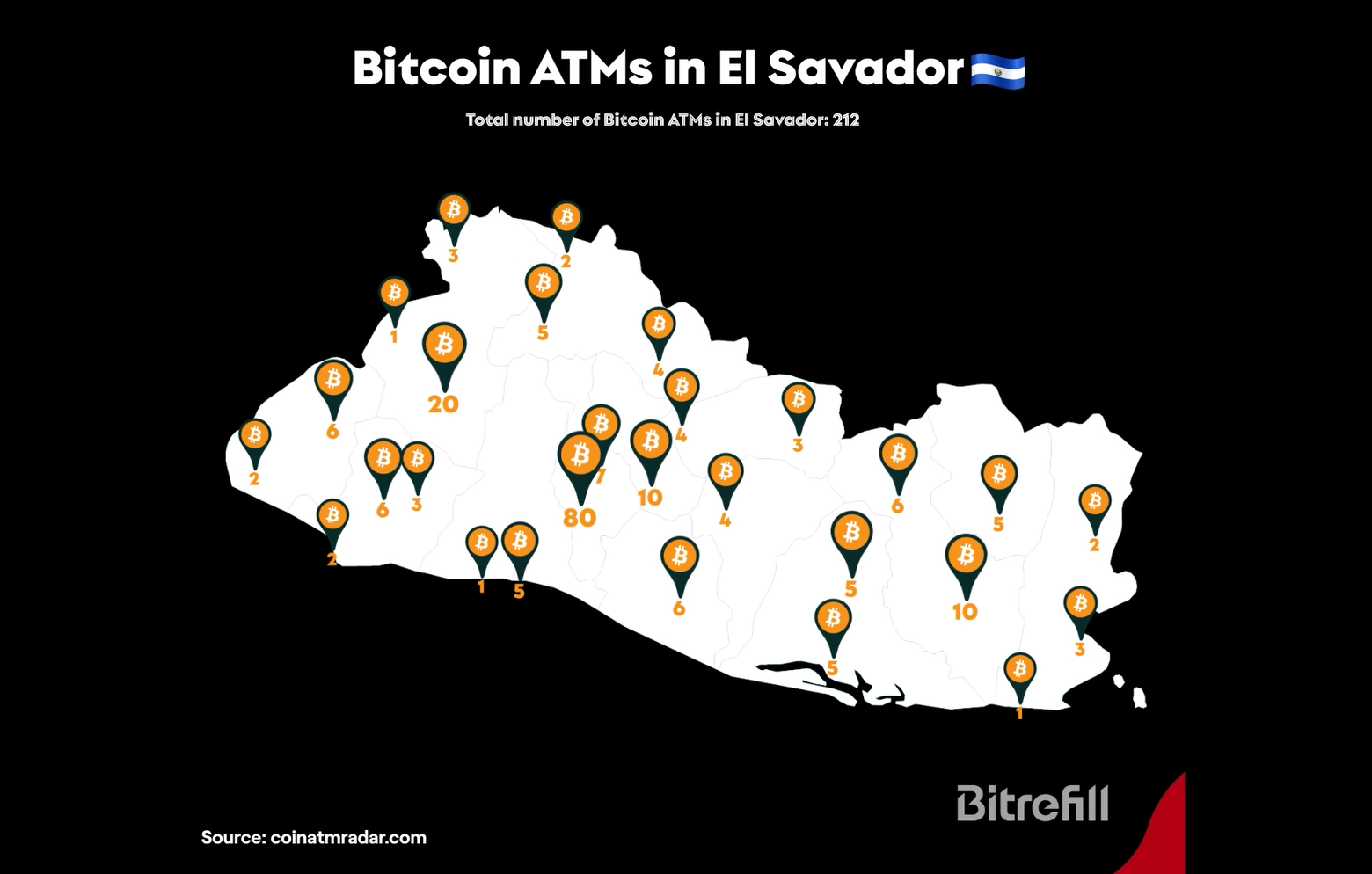 El Salvador has become the first country in the world to pursue Bitcoin as legal tender. Nearly a year ago, the nation's Legislative Assembly passed a law that allows cryptocurrency to be used alongside the U.S. dollar. The government has installed over 200 Bitcoin automatic teller machines and created a digital wallet which supports Bitcoin and USD called Chivo, a local term for 'cool.' The President, Nayib Bukele, announced on Twitter that transactions will be commission-free.
Poland - 124 BTMs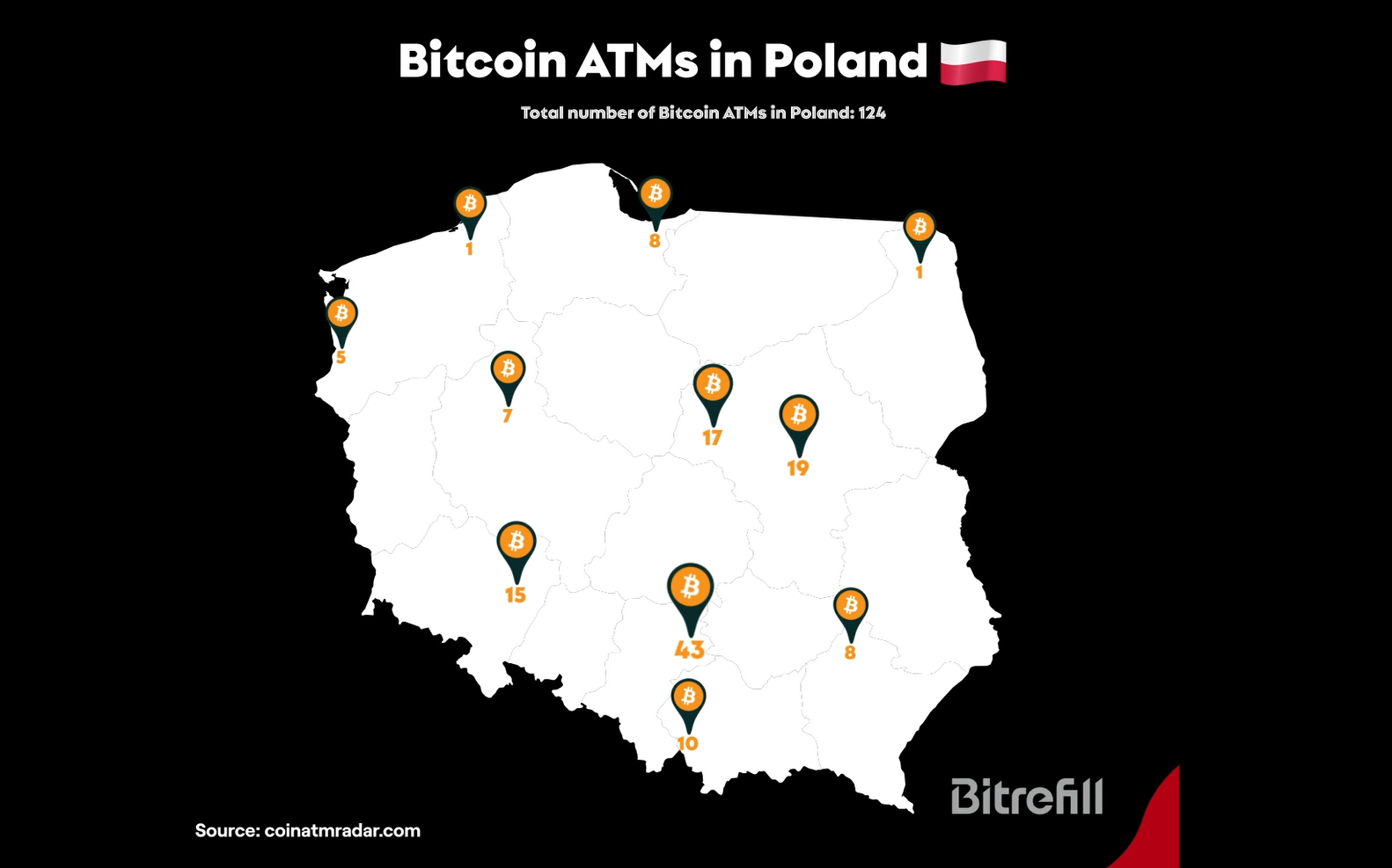 Poland has become one of the top 10 nations with the highest number of cryptocurrency ATMs. According to this ranking, the country is fifth with 191 crypto teller devices. However, according to Poland's Financial Supervision Authority (KNF), there are currently no legal provisions banning or restricting Bitcoin ATMs in any way. The companies that install and operate these devices are subject to the country's anti-money laundering (AML) regulations, though.
Switzerland - 143 BTMs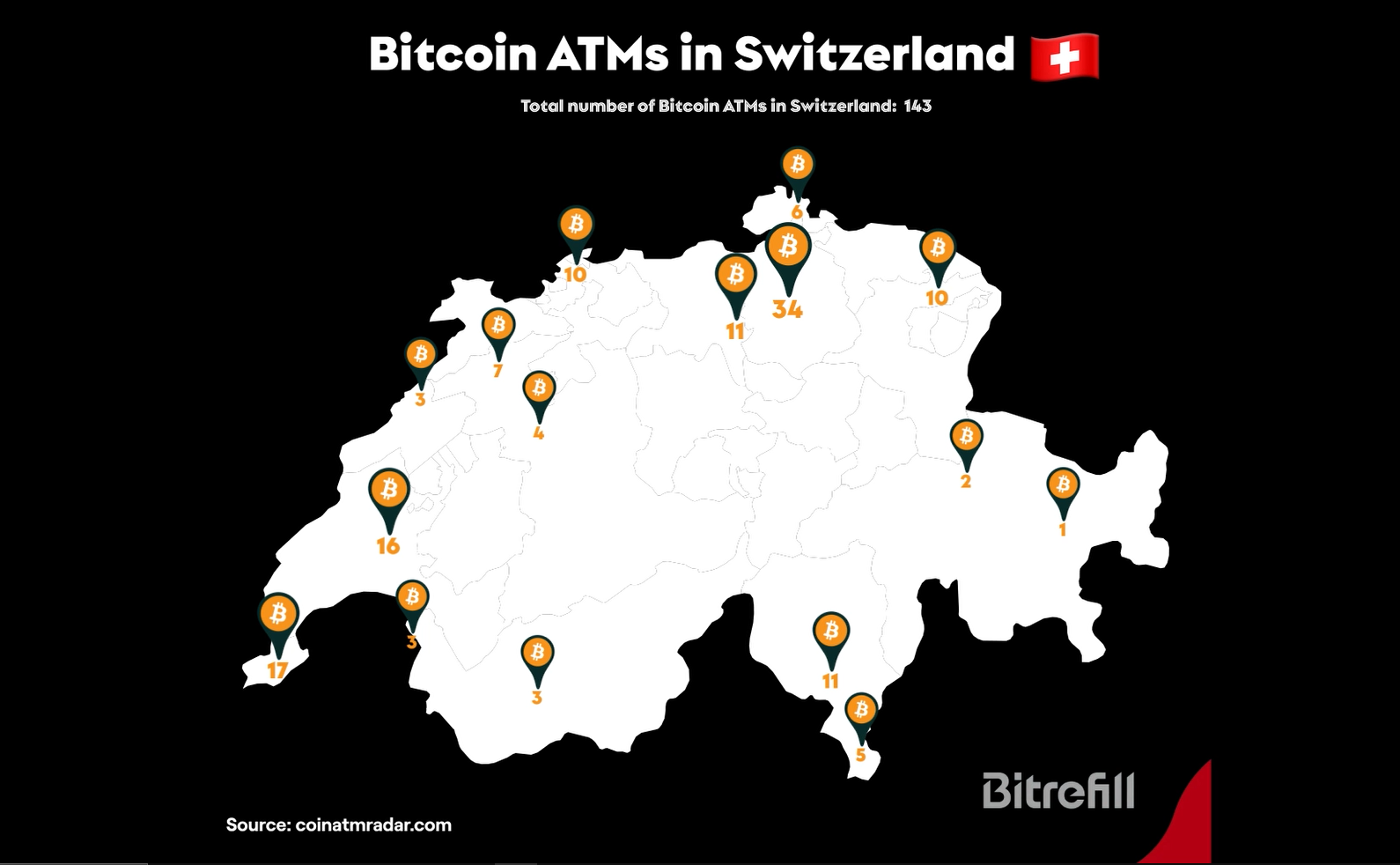 Switzerland is a great place to buy and sell Bitcoin, Litecoin, and other cryptocurrencies. The country has a large network of Bitcoin ATMs that makes it easy for people of all experience levels to buy and sell cryptocurrencies. The ATMs are located in cities like Zurich, Zug, Winterthur, Basel, Geneva, Lausanne, Neuchâtel and Lugano.
Hong Kong - 148 BTMs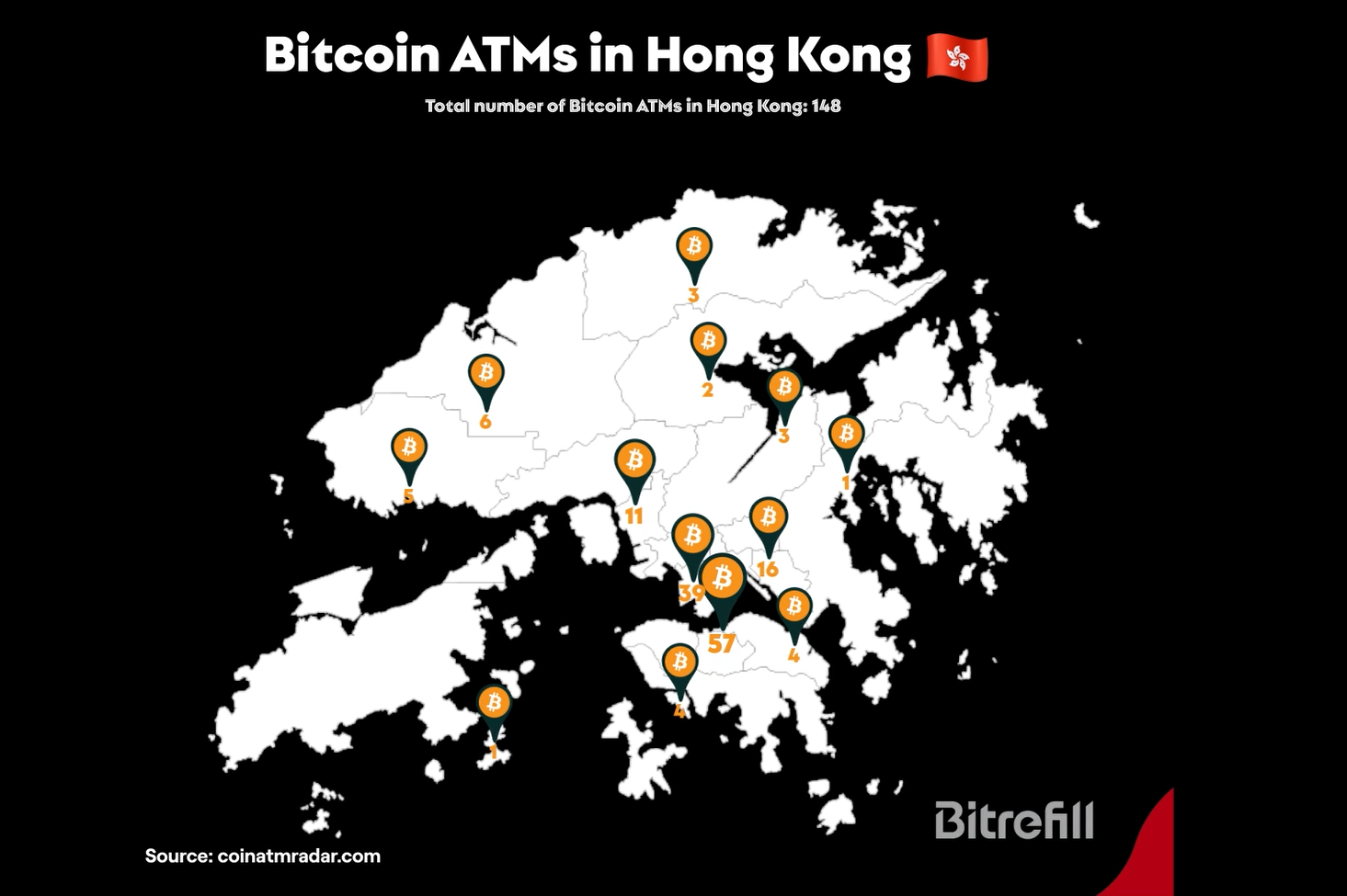 If you're looking to buy Bitcoin in Hong Kong, one of the most convenient options is an ATM. You'll just need to show the machine your Bitcoin address QR code, insert some cash, and confirm the exchange rate. The entire process takes less than 30 seconds. However, it's important to note that this method can be anonymous but comes with fees that can be as high as 8%. Most ATMs only accept HKD bank notes, and some may require that the first note be of HKD 500 denomination or above. There are over 140 Bitcoin ATMs in Hong Kong, though their locations might be subject to change.
Austria - 139 BTMs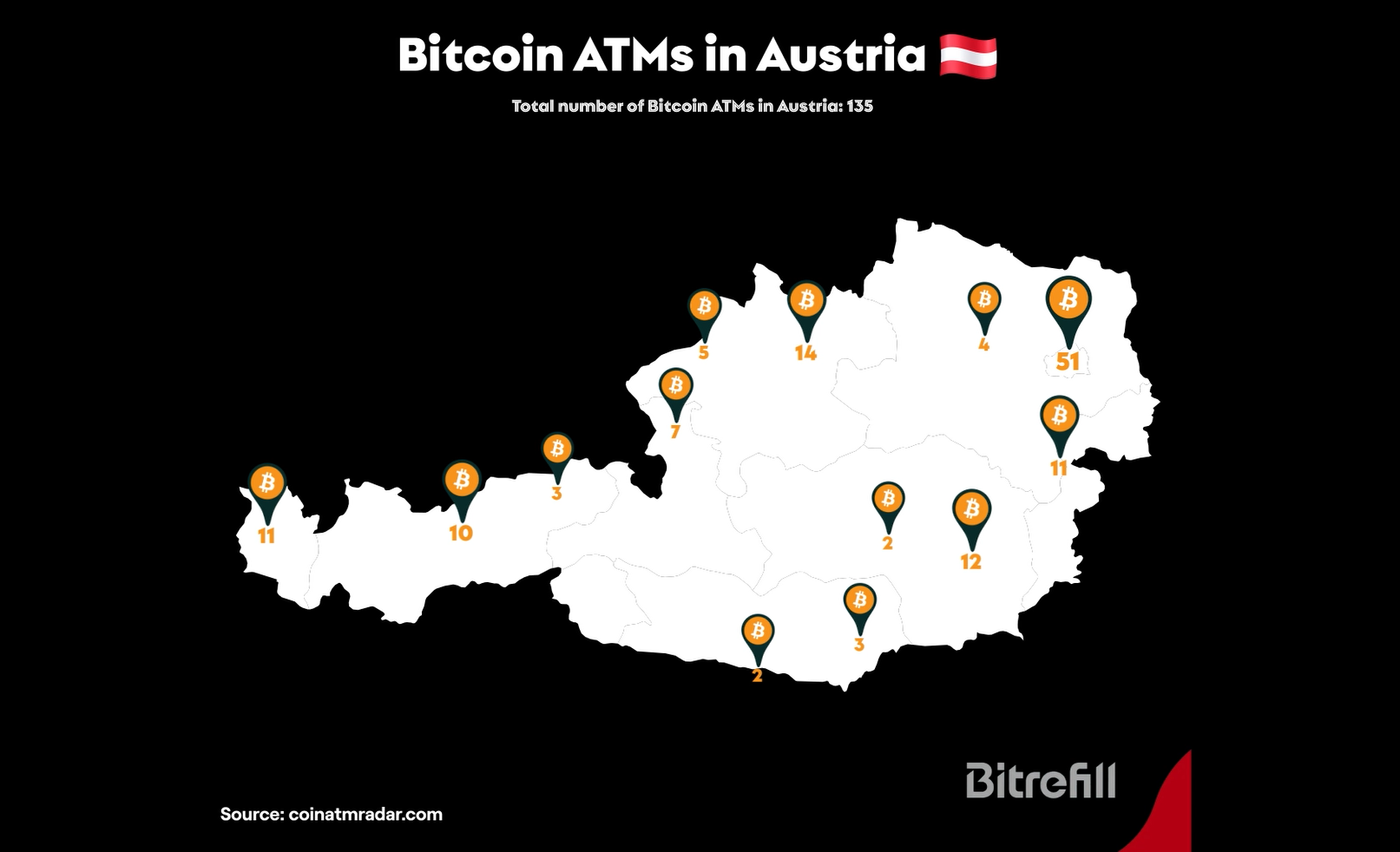 Austria has not established any sort of legal framework for cryptocurrency-related businesses at this time. This means that, under Austrian law, cryptocurrencies do not have the same status as legal tender. Despite this, Austria has been a European leader in both Bitcoin adoption and the establishment of Bitcoin ATMs. There are now around 139 operating Bitcoin ATMs in Austria. MediaMarkt, a large electronics retailer, has installed Bitcoin ATMs in several of its stores in Austria. The move makes the company one of the first brick-and-mortar retailers to accept the cryptocurrency.
Romania - 132 BTMs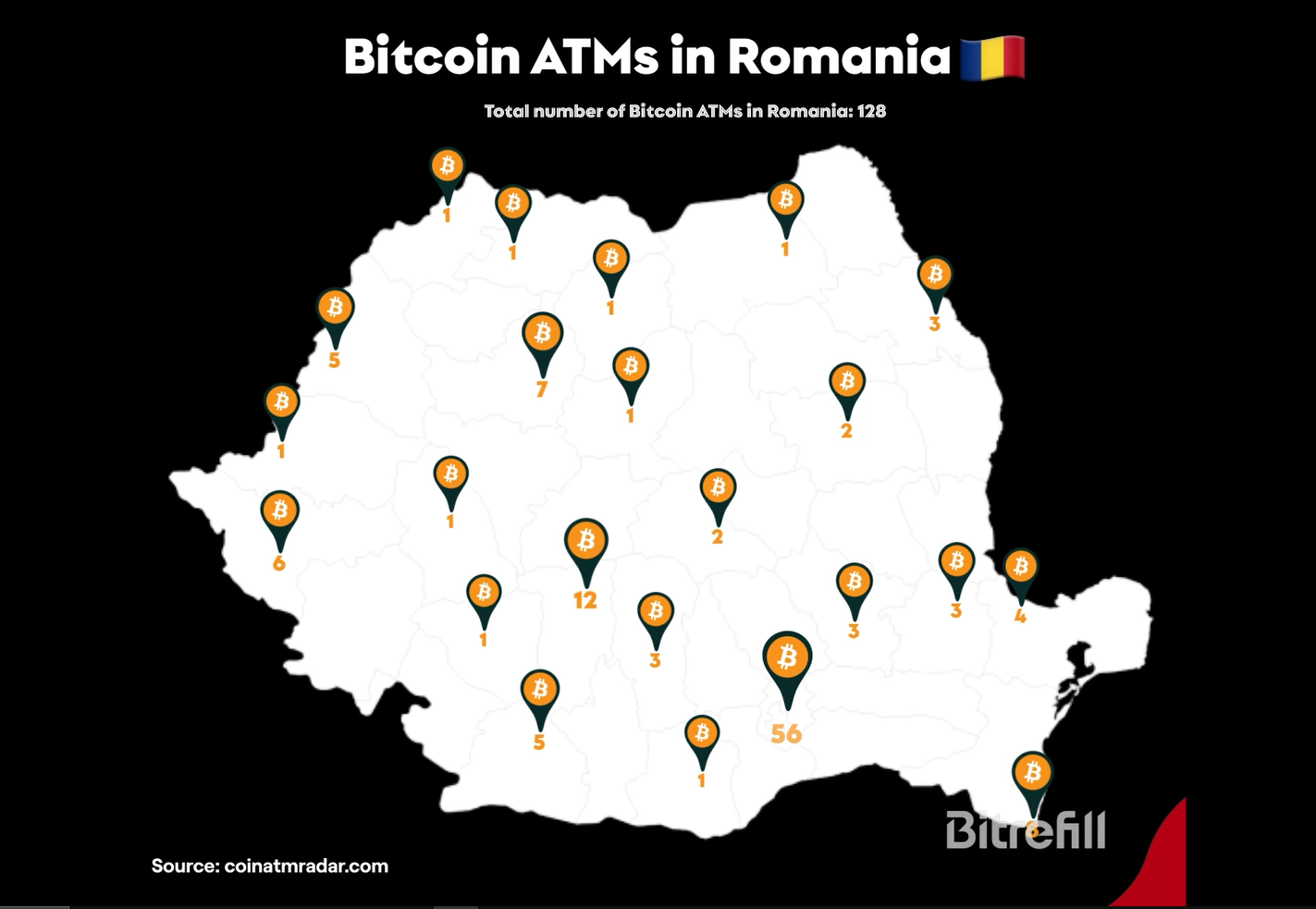 Romania is one of the many countries that have decided to jump on the cryptocurrency bandwagon. In order to do so, however, they've stipulated that all crypto exchanges and wallets must register with the government. This has caused a recent growth in the installation of Bitcoin ATMs throughout the country; Romania already has 132 ATMs and teller machines that allow for the exchange of fiat and crypto. If you use this method, there's no verification required. However, if you opt to buy or sell crypto online, you have to provide a document for proof of identity.
Italy - 80 BTMs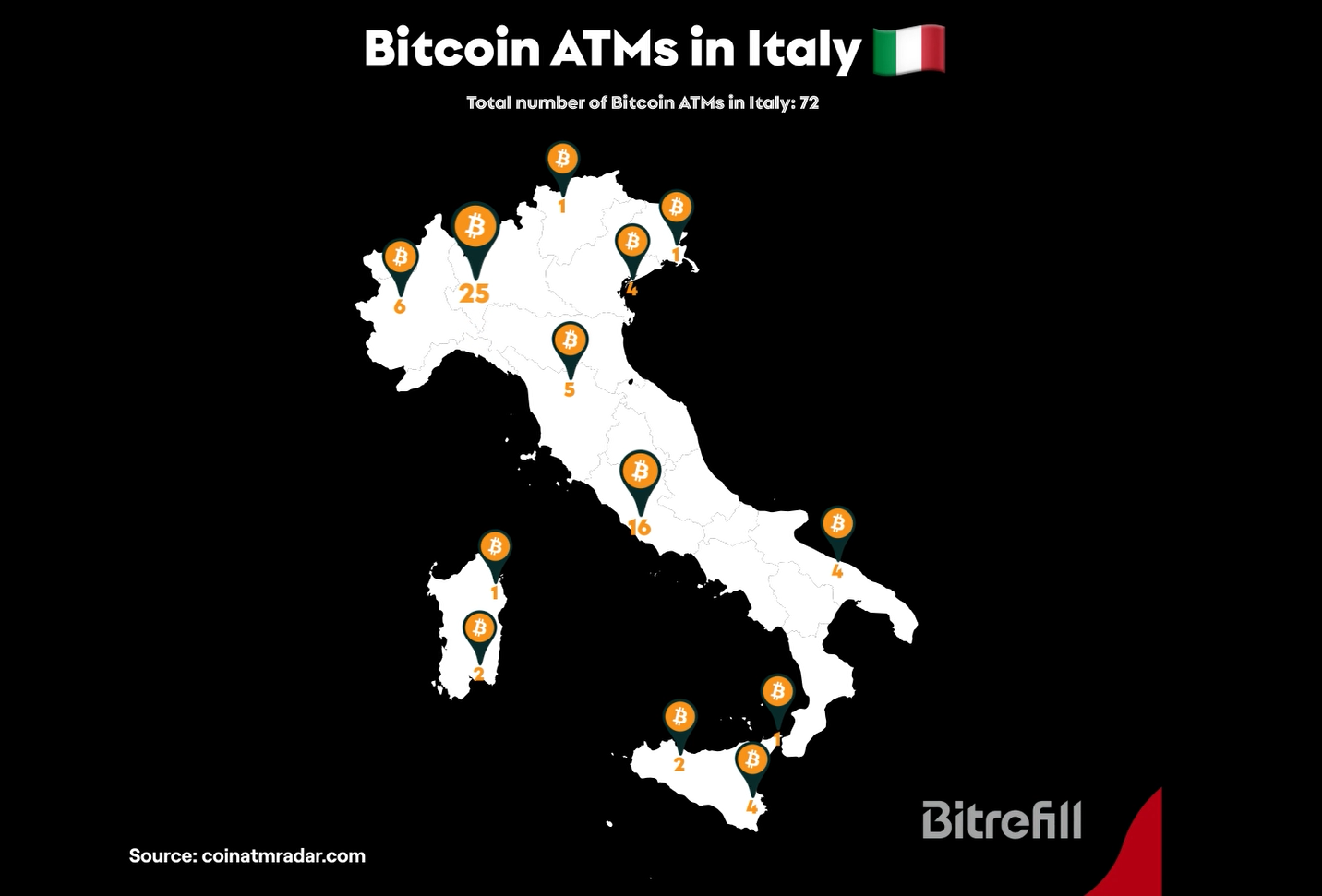 In 2021, Milan was the only city in Italy with more than 10 Bitcoin ATMs. Most of these were located in the north of the country. As of 2022, more than 80 Bitcoin ATM machines can be found across Italy. This allows users to easily convert physical money into digital currency. Italy is also the second-highest country in the world in terms of how many companies accept cryptocurrency payments.
Top 5 States in the US For Bitcoin ATMs
Texas - 4137 BTMs
The cryptocurrency market is hitting the Lone Star State in a big way by allowing people to exchange cash for bitcoins without any third-party involvement. Bitcoin ATMs, or BTMs, have been popping up at gas stations and grocery stores across Texas, and customers can use them to purchase up to $18,000 worth of bitcoin. With 4,137 crypto ATMs, Texas has the highest number of any state in the country. It also ranks second in total number of crypto-related searches, and several bills related to cryptocurrencies have been passed by the state legislature.
California - 3668 BTMs
Bitcoin ATMs are popping up all over the world, and California is no exception. There are now over 3668 Bitcoin ATMs in the state, with more being added all the time. This is a convenient way for people to buy and sell Bitcoin, and it's also a good way to get started with Bitcoin if you're not sure how to do it.
If you're looking for a Bitcoin ATM in California, there are a few things to keep in mind. First of all, not all ATMs are created equal. Some will have higher fees than others, so it's important to compare before you decide which one to use. Secondly, not all ATMs will allow you to buy Bitcoin. Some will only allow you to sell, so make sure you know what you're looking for before you go.
Florida - 3243 BTMs
Over 3200 Bitcoin ATMs are now available in select locations throughout Florida. This is a convenient way to buy and sell Bitcoin, and helps to promote the cryptocurrency in the mainstream. The Bitcoin ATMs offer a variety of features, including the ability to buy and sell Bitcoin, as well as to check the current market value of the cryptocurrency. Bitcoin ATMs are most concentrated in the major cities like Miami and Tampa. Using a Bitcoin ATM is simple: just insert cash and you'll get a corresponding amount of Bitcoin in your digital wallet.
Georgia - 1334 BTMs
Bitcoin ATMs are now available in a number of locations across Georgia. This is a major step forward for the adoption of Bitcoin in the state, as it makes it much easier for people to get hold of the digital currency. 1334 ATMs are now located in cities like Atlanta, Augusta, and Savannah, and offer a convenient way for people to buy Bitcoin.
This is good news for the Bitcoin community in Georgia, as it makes it much easier for people to get started with Bitcoin. The ATMs are a great way to introduce people to the digital currency, and to get them started with using it.
Illinois - 1687 BTMs
The first Bitcoin ATM in Illinois was installed in 2014, and the number of ATMs has steadily increased since then to 1687 BTMs. However, the majority of Bitcoin ATMs in the state are still concentrated in the Chicago area. This is likely due to the fact that Chicago is the largest city in Illinois and has a large number of businesses and individuals interested in Bitcoin.
Expect The Bitcoin ATM Trend To Continue
Bitcoin ATMs are coming to your neighborhood, if you don't have any already! One of the first tools that made Bitcoin available to the public were Bitcoin ATMs. They were invented back in 2013 and were a great way to convert fiat money (USD, EUR and others) into Bitcoin.
Today, there are more than 38,000 of them in 77 countries around the world. While many of them are operated by Bitcoin companies (such as Genesis Coin, Lamassu and General Bytes), they can also be found at brick and mortar stores, airports, and even in residential areas.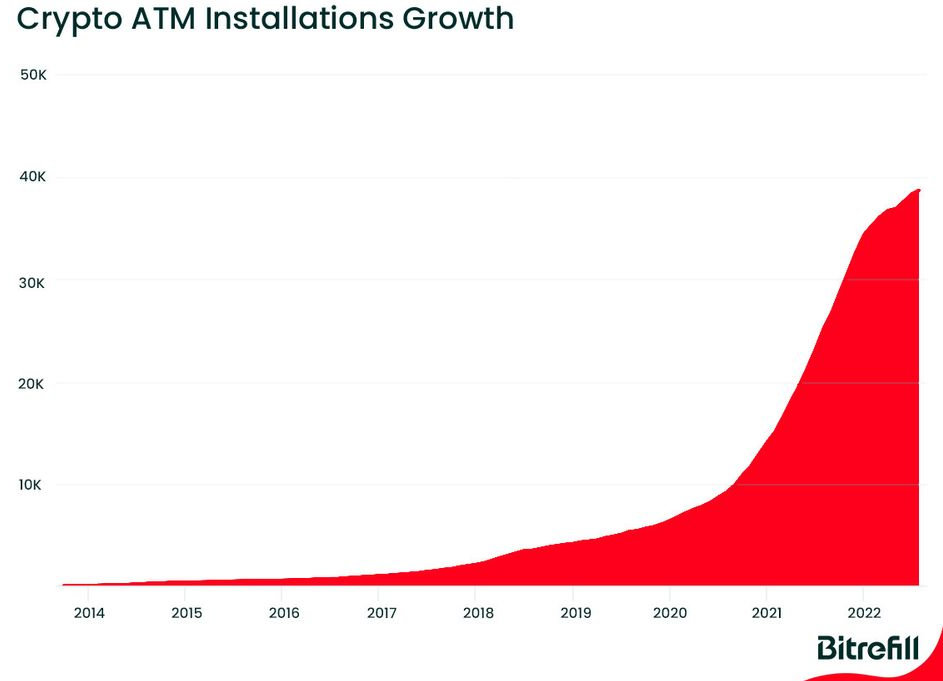 Which Companies Make And Sell Bitcoin ATMs?
There are over 600 companies which operate BTMs and 45 companies which manufacture them, as of writing this article. The major players in the industry can be ranked and categorized by the following percentages of their global market share:
Genesis Coin - 40.7%
General Bytes - 22.2%
BitAccess - 16.3%
Coinsource - 5.3%
Bitstop - 4.8%
Bytefederal - 2.9%
Other Manufacturers - 7.8%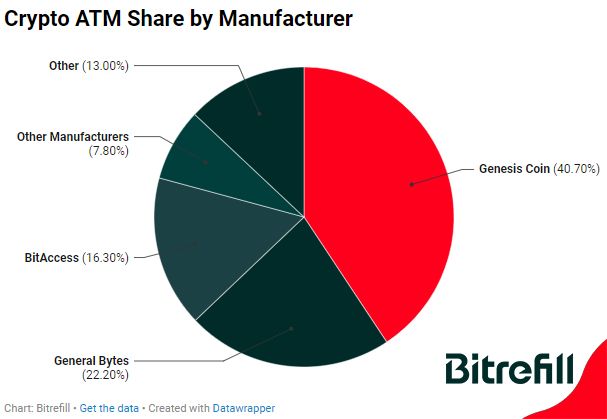 Other top companies who specialize in operating Bitcoin ATMs include Bitcoin Depot, Coin Cloud, CoinFlip, Bitcoin of America, RockItCoin, Bitstop, Localcoin and National Bitcoin ATM.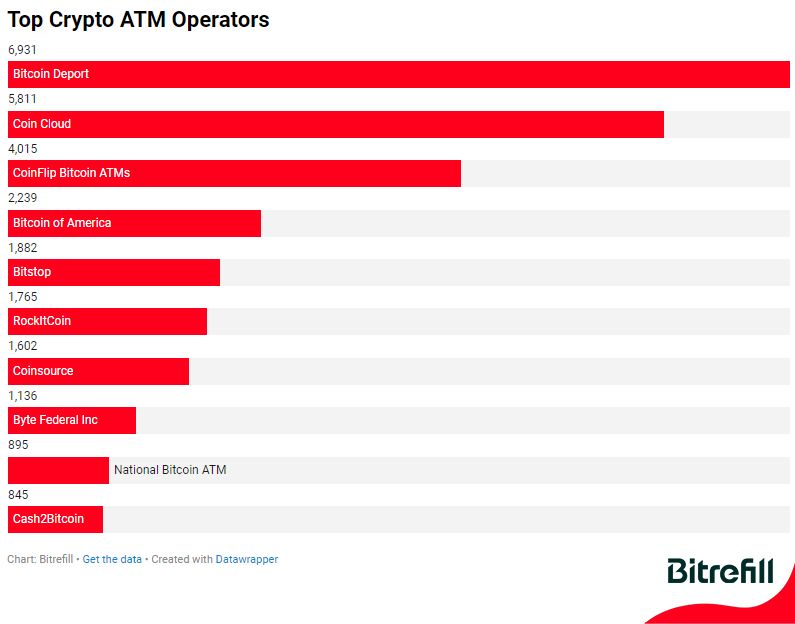 Which Additional Coins Do Bitcoin ATMs Support?
The answer to this question depends on a variety of factors like what kind of BTM machine it is, which company operates the machine, and where the machine is located, it can generally be said that many BTMs support additional coins other than Bitcoin.
Sites like CoinATMRadar offer interactive map listings on where you can find machines that support the coin you want to buy or sell. You can search by country, by coin, and by city. The coins that are most often supported are:
Bitcoin
Lightning BTC
Bitcoin Cash
Ether
Dash
Litecoin
Zcash
Monero
Dogecoin
Tether
Ripple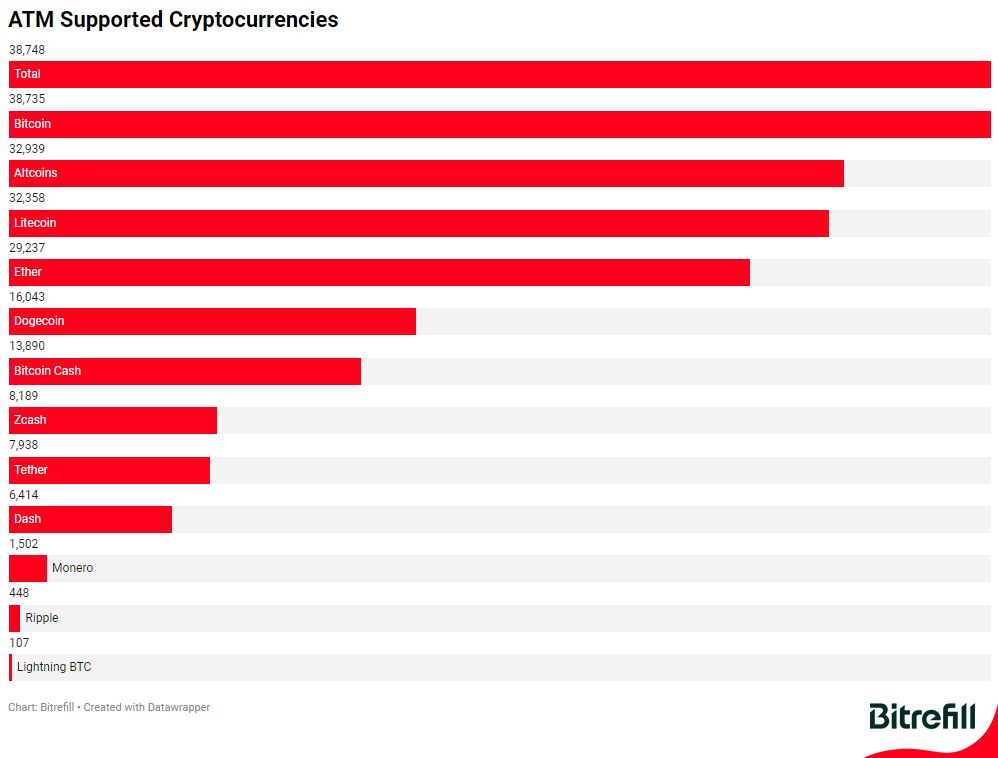 If you found this post helpful, let us know on Twitter! Thanks for using Bitrefill.
Methodology:
We used the data from CoinAtmRadar, a website that gets the data in real time from the Rapid API. We filtered the data by excluding the Crypto tellers all around the world and then collected only ATMs that accept crypto.