The topic came up… could you actually pay most of your daily expenses on cryptocurrency? Or is it still too early? In this article I will explore just how anyone can live their life on crypto in the UK.
As we all know, converting currencies when you go abroad comes at a cost and trying to withdraw cash from your UK bank account abroad or sending money to your friend in another country can be both time consuming and hurt your wallet. So, as someone who spends time in both the United Kingdom and Brazil, I find it very beneficial to keep a good amount of my money in cryptocurrency, which makes life easier for me.
So how then, do I spend my cryptocurrency easily when I am in the United Kingdom and other countries? With Bitrefill.
Why use Bitrefill?
Bitrefill is a service which allows you to buy gift cards from a multitude of retailers, both online and physical, from Amazon to Spotify and from Halfords to ASDA in minutes with crypto; Bitrefill makes the process of living your every day life or even buying one-off items with bitcoin and altcoins easy.
How do I use Bitrefill?
No Account needed!. Head over to their website, choose the voucher you want, provide an email address and then choose your payment method. Bitrefill accepts bitcoin, lightning, ethereum, litecoin, dash or even dogecoin. Once you have paid, your gift card will be ready to spend within minutes.
If it is for a physical store, you show a barcode from your phone to the cashier. To redeem online, you copy/paste the code.
Online shopping
This one had to be first, as most gifts and technology items I buy these days are usually online and last month I decided that I finally wanted to buy myself a Trezor wallet. I found strangely that the wallet is cheaper on Amazon, but Amazon doesn't accept cryptocurrency as payment unlike the Trezor website. This is where Bitrefill saved the day, as they provide an Amazon UK gift card, so in a few quick clicks I had a Trezor Wallet on the way, all paid for with bitcoin!
Hungry?
It's a Friday night, I don't want to cook and my fridge is running low. The first thing I usually turn to at this point is a takeaway… but how can I do that when I am only paying with cryptocurrency?
Bitrefill offers UberEats vouchers and Just Eat vouchers, so no matter where you are in the country, you're covered if you want to pay with bitcoin or even dogecoin.
What about date night? Well, Bitrefill has you covered there too. If you are boring like me, not only can you spend the whole night talking to your date about bitcoin, you can show them how easy it is to use. You can buy a Wagamama, Zizzi, Harvester or even Pizza Express gift voucher as well as gift cards for more restaurants on your phone there and then and pay that bill in style 😎.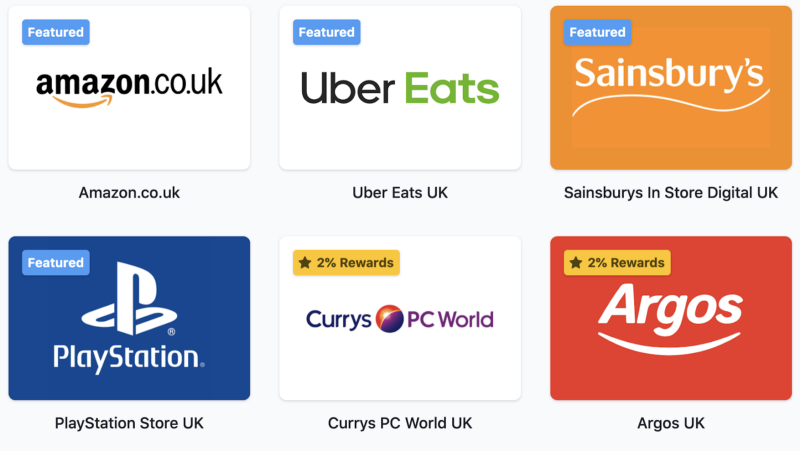 A few of the 100+ gift cards available to buy with bitcoin
Grocery time
I bought an ASDA voucher with bitcoin and walked down to the local ASDA for my weekly replenish. If you are more of a Sainsburys fan, don't worry Bitrefill offers gift cards for them too.
Heading out for some weekend shopping
When the weekend rolls around, sometimes you have to battle the local highstreet in order to pick up that coat you need for the ever approaching winter or those summer dresses you need for the upcoming holiday in Spain. This is an area I figured could be difficult, how many shops provide gift cards that can be bought with cryptocurrency?
It turns out a lot! Bitrefill has you covered for all of your clothing needs and even more:
ASOS
Burton and Dorothy Perkins
Miss Selfridge
Topshop and Topman
New Look
Primark
TKMaxx
John Lewis & Partners
Marks and Spencers
Sports Direct
Adidas
Nike
B&Q
Halfords
Argos
The list goes on. In minutes you have a gift card you can redeem in store or online, all paid for with crypto! Knowing me, I'll end up hungry when I am out doing some shopping, but have no fear, you can get Costa Coffee and Caffe Nero vouchers with your cryptocurrency too.
Heading on holiday?
We already know that cryptocurrencies are borderless, but many flight companies and hotels only directly accept GBP. This is where Bitrefill comes to the rescue again. You can book your Uber to the airport with a gift card and then your flight with a FlightGift voucher. Want to head to Paris or Amsterdam instead? You can grab an Eurostar voucher.
What about booking your accommodation? Well, with HotelGift, Hotels.com, Lastminute.co.uk and Global Hotel Card UK available at bitrefill, your crypto will cover you for nearly any location.
Mobile top-ups
This has been a lifesaver for many — Bitrefill can be used to top up your EE, Vodafone, O2, Tesco mobile, GiffGaff or many more phones. Only takes minutes, seconds with some wallets; just head over to the website and make sure to click the 'Refills' tab at the top of the website, or just click on this link here.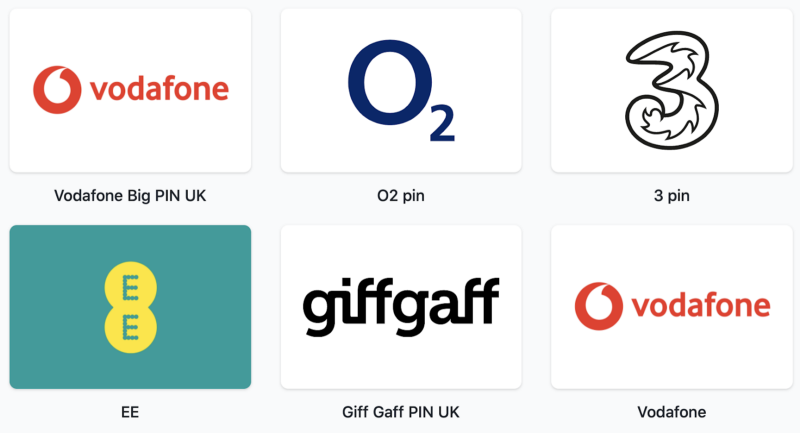 Some of the mobile top-ups available to buy with bitcoin
Gaming or Mobile Apps
The final piece of the puzzle. Can I buy games on my PC, Xbox, Playstation, Android phone or iPhone with cryptocurrency? The answer, as you may expect by now, is yes. At Bitrefill you can grab vouchers for Steam, Nintendo EShop, App Store, Google Play, PS Store or Xbox which means that any game or mobile application you can dream of is within close reach when you are choosing to live life on crypto.
So now you can see that with services like Bitrefill, living life on crypto is so much easier than it was before, so what are you waiting for? Head over to Bitrefill and check out the entire catalog of gift cards available now in the UK.
---
By Lawrence Ray.