We'll be taking a look at how gamers can buy the hottest games, consoles, accessories, and in-game items with cryptocurrency. You can even pay for internet & streaming, and get food delivered to your door.
How gamers use Bitcoin and Altcoins on a daily basis
At Bitrefill, there's enough avid gamers working here to understand what gamers need. That's why today we want to show you how you can spend Bitcoin, Ethereum, Litecoin, Dash and Dogecoin on a variety of gaming gift cards and digital vouchers that we offer, so you don't have to spread your personal and banking information online.
Make sure you buy the correct card for your region/country!
To start, we have Playstation Store and Playstation Plus gift cards for a good number of countries, so you or a gift card recipient can enjoy all the benefits of the Playstation Plus subscription and the Playstation store.
We are more limited in regions, but we have something for Xbox gamers looking for Xbox and Xbox Live gift cards.
For Switch, 3DS, and Wii players looking for Nintendo eShop gift cards, we've got you covered. You can find all the hottest Nintendo titles and pay with magic internet money.
Last but not least, you can get the awesome Steam gift cards to buy games directly from Steam, loading your credit using Bitcoin or selected Altcoins.
Purchase in-game items with Bitcoin
For gamers looking to buy in-game items like special weapons, upgrades, and skins, we have Razer Gold US prepaid credits (you can create a Razer US account and use it from anywhere). Razer Gold works across thousands of games, and has millions of users. Our price has improved!
For Fortnite fans looking for V-bucks, now you can buy Fortnite V-Bucks with Bitcoin by using Gift Cards from Xbox, Playstation, Nintendo, and iTunes.
Roblox is one of the most popular online gaming platforms ever, with over 100 million monthly players. We have Roblox USD gift cards that work internationally, and you can purchase them instantly with Lightning Network.
We also have Nexon Karma Koin gift cards so you can stock up on NX coins, for all your favorite Nexon online games, like Combat Arms, Dragon Nest, and MapleStory.
Fans of IMVU can find IMVU digital gift cards that allow them to make all the customizations they desire to their IMVU avatar. Make your avatar unique, so it truly stands out.
If you're into taking care of your digital pet, we have NeoPets gift cards for you, too.
World of Warcraft players from the USA can find 60 day WoW gift cards so they can focus on the next epic quest.
We also have Blizzard Balance cards and Blizzard Battle.Net, both for the USA, yo stay connected with all your favorite Blizzard online gaming action.
Runescape fans can also find gift cards for their favorite online RPG, so they can undertake the next adventure. Jagex Runescape cards can be purchased easily, directly from our catalog.
Mobile gamers can also get in the action, we have Google's Play Store gift cards for several regions so you can purchase your favorite mobile games, movies, ebooks, and music for Android devices.
Games, hardware and accessories at your local gaming retailer
For those of you who want to purchase a new console, VR gaming set (Hot!), extra controllers, memory cards, games, and other accessories, we have a variety of retail gift card options available to you.
We have GameStop gift cards for USA and Italy so you can get the newest hardware, be it a Playstation 4, a new Xbox, or Oculus VR set (and attend the Bitcoin VR meetups!), to game on, or any popular accessories you might need. They also work on Babbage's, EBX, Planet X stores and online at GameStop.com
Don't have a Game Stop close by? Don't worry, we also have EB Games gift cards, to meet your gaming needs. You can find them in our catalog in the gaming section.
If you're looking for collectables and gaming memorabilia, we have ThinkGeek gift cards just for you. Now you can purchase your favorite Dragon Ball Z action figures, Star Wars collectables, or Super Mario Bros shirts with Crypto.
Complementary stuff
Once you've stocked up on digital vouchers to meet all your gaming needs, you can use Uber Eats to order a pizza or one of thousands of other takeout options to satiate your gaming munchies.
We even have Xfinity and Tracfone prepaid internet and mobile data gift cards so you can pay for your connection to the online worlds you love to game in.
If you get tired of gaming and just want to watch some TV, we have streaming gift cards from Netflix, Hulu, Showtime, Starz, Crunchyroll, and Sling TV.
If you rather just listen to music, we have Spotify and SiriusXM, as solid options for the latest sounds. For the intellectual gamer, we have audiobooks on Audible.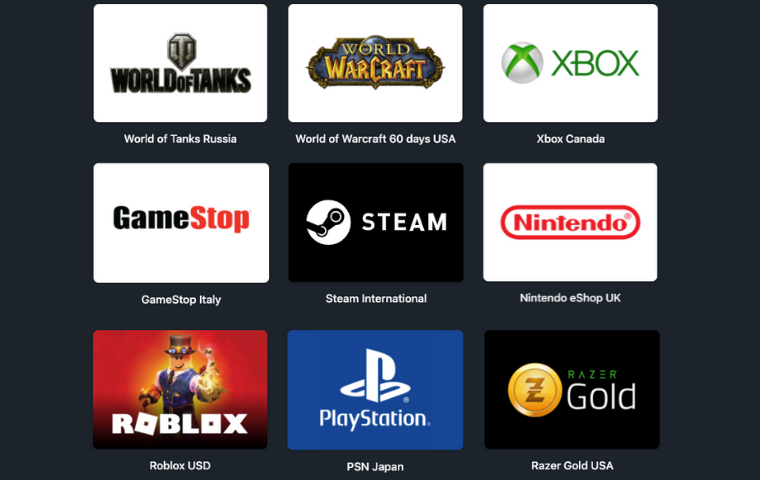 Thank you for using Bitrefill !
---
Love gaming with Bitrefill? Follow us and let us know on Twitter, or come chat with us in our Telegram group.