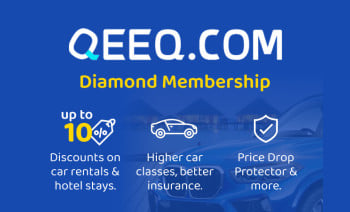 QEEQ Diamond Membership ギフトカード
Still searching for the lowest rate on car rentals and hotels? QEEQ Diamond Membership provides you an extra 10%-90% discount over standard promotion with 1,000+ car rental agencies and 700,000 hotels in more than 200 countries. As a Diamond member, you can get an extra gift like 1-year Flight Accident Protection which worth $39.99/year. And also get great deals in adding Driver & Passenger Protection for free in all pay at pick up rentals and other insurance. QEEQ Diamond Membership gift card lets you book the best value rental car and most suitable hotel deals with Bitcoin, Lightning, Dash, Dogecoin, Litecoin or Ethereum. Instant email delivery. Start travelling on crypto!
QEEQ Diamond Membership allows you to enjoy exclusively extra 10%-90% off discount at car rentals from the well-known brands like Hertz, Avis, Sixt, Europcar, to the best value local agencies like Ace, Fox, Routes, Right Cars and many more! Now the QEEQ Diamond Membership also can be applied for hotels worldwide from Best Western Hotels&Resorts, BERJAYA, WYNDHAM, Louvre Hotels,etc.
Want to discover more benefits? please check:
https://www.qeeq.com/qeeq-diamond-benefits
● Sign in or register at
https://www.qeeq.com/partner/code/redeem
● Redeem the gift code with your account and your QEEQ account will be upgraded as a 1-year QEEQ Diamond Member.
● Search car rental, select your ideal rental, get a direct discount on car rental with Diamond Price.
● Only one gift code can be redeemed each time.
I doubt this is a good idea, already regret my decision. QEEQ seems very difficult and scammy to navigate, paying with gift cards is close to useless. They do accept Bitcoin via Bitpay, but you have to submit passport scans etc to do that. Will avoid it
1. The gift code can only be redeemed at
https://www.qeeq.com/partner/code/redeem
with a registered QEEQ account and cannot be revoked or refunded after redemption.
2. The QEEQ Diamond Membership will be effective since redemption and valid for one year.
3. The QEEQ Diamond Membership validity will be extended for another one year if you are currently a QEEQ Diamond member.
4. The gift code can be only used once and no remaining cash value (if any) available for next purchase.
5. The full terms and conditions may be found at https://www.qeeq.com/.
ギフトカードの仕組み
金額を入力してください
カードの金額を選択または入力します。
お好きなコインでお支払い
入金確認は、ほとんどの場合、その日のうちに行われます。
以上で、使用準備は完了です。
ご指定の販売店で、販売店の指示に従い、カードをご利用ください。
QEEQ Diamond Membership は仮想通貨を受け付けませんが、Bitrefillはビットコインや他の暗号通貨で QEEQ Diamond Membership ギフトカードを購入できるようにすることで、回避策を提供しています。このギフトカードは QEEQ Diamond Membership での購入に使用することができます。
ビットコインや仮想通貨を簡単にデジタルQEEQ Diamond Membership ギフトカードに変換できます 。
QEEQ Diamond Membership ギフトカードにご希望の金額を入力します。
支払いに使用する暗号通貨を選択します。ビットコイン、ビットコインライトニング、イーサリアム、USDT、USDC、ライトコイン、ドージコイン、ダッシュなどがあります。または、Binance Pay を使用して支払うこともできます。
お支払いが確認されると、QEEQ Diamond Membershipギフトカードコードがお手元に届きます
Bitrefill で QEEQ Diamond Membership ギフトカードを購入すると、ほぼ瞬時にメールで送信されます。または、チェックアウトページからギフトカードを直接引き換えることもできます。
ここで回答されていない質問がある場合は、次をご覧ください。 ヘルプセンター 喜んでお手伝いさせていただきます。