Do you have an excellent website/application with good traction?
With Bitrefill's widget you can offer thousands of gift cards and mobile refills, directly to your customers from within your website or app, while earning a passive income from each sale.
Why partner with Bitrefill?
Bitrefill's integration widget is a great way to give your website or app users an easy and convenient way to spend their cryptocurrency on over 3000+ gift cards and mobile refills available in 170+ countries. The integration widget offers an embedded shopping portal which lets your customers shop without even leaving your site or app.
Important: There is an approval process, and we will assess based on your traction metrics and industry reputability.
This is not for just-launched platforms.
Bitrefill's catalog is practical for users to spend on real world goods and services by purchasing merchant balance directly with Bitcoin or one of the leading altcoins we accept. A Bitrefill integration makes it easy for your customers to just live on crypto, and the Customer Service is on us!
Optionally, the widget can be integrated with Lightning Network for real time settlement, meaning neither you nor Bitrefill will ever owe each other any money, as purchases are instantly settled in real time with a Lightning Network payment channel. You'll earn a commission on every sale, so it's also a great way to create an additional stream of revenue to monetize your site or app.
Even if you don't do Lightning, every purchase through the embedded widget goes directly to Bitrefill, and your commission goes directly to you, it's instantly settled. It's a hassle free way to offer thousands of new products to your users, without making a hefty investment for inventory.
Bitrefill's integration can be seen in action in many great Bitcoin wallets, exchanges, and websites. To become a Bitrefill partner, go to Bitrefill.com/partner and register to get the approval process started.
Bitrefill's integration widget in action
Bitrefill's integration widget can be seen in action in several great wallets, apps, websites, and Bitcoin exchanges. Here is a short video of the integration with Blue Wallet, so you can see firsthand how it works:
Here's another video, showing the integration with the Trezor hardware wallet:
Trezor
Here's a video which demonstrates the integration with Bitfinex, one of the world's most popular Bitcoin exchanges:
Bitfinex
Here's a short video demonstrating how to purchase Bitrefill's gift cards and mobile refills from within Breez wallet:
Breez
Edge
You can also check out our integration widget in action, within Edge wallet, which is one of the most popular and user friendly Multicoin wallets. Edge makes using crypto easy to grasp for new users by providing a wonderfully intuitive and elegant UI.
Edge caters to traders who hold a diverse portfolio of crypto-assets. By integrating Bitrefill, Edge allow traders a simple and convenient off-ramp to turn their trading gains into real-world goods and services.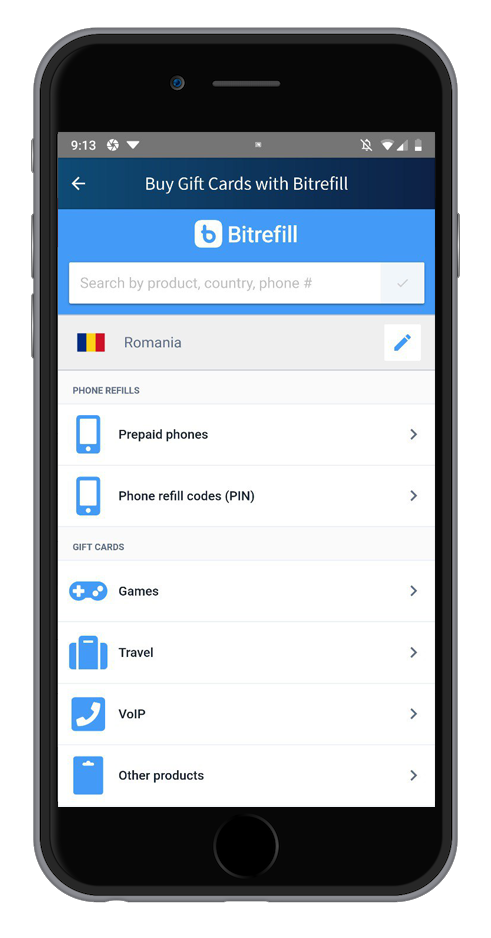 Octofi DApp
Bitrefill is also integrated into the Octofi Decentralized Application (DApp), an all-in-one Defi solution which gives users access to crypto markets via Dex trading, Defi lending platforms, NFTs, Liquidity pools, Token issuance, and Blockchain Governance. You can see Bitrefill's integration with Octofi in action at: https://octo.fi/#/fiat/off-cards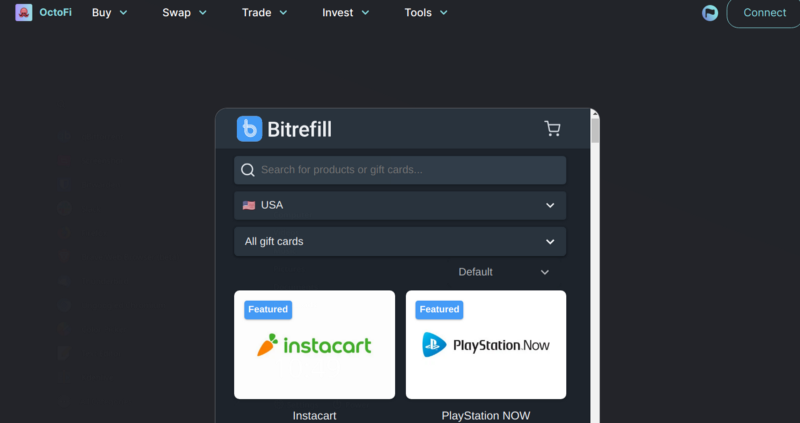 Coincorner
Coincorner also features our integration widget. Coincorner is a platform that lets you buy Bitcoin with credit and debit cards, set instant and auto-recurring Bitcoin buys so you can dollar cost average by buying a set amount every week/month, directly from the website or Coincorner app. Coincorner also features a payment gateway offering merchant services for businesses looking to add the ability to accept Bitcoin.
You can see the integration widget at:
https://www.coincorner.com/bitcoin-gift-cards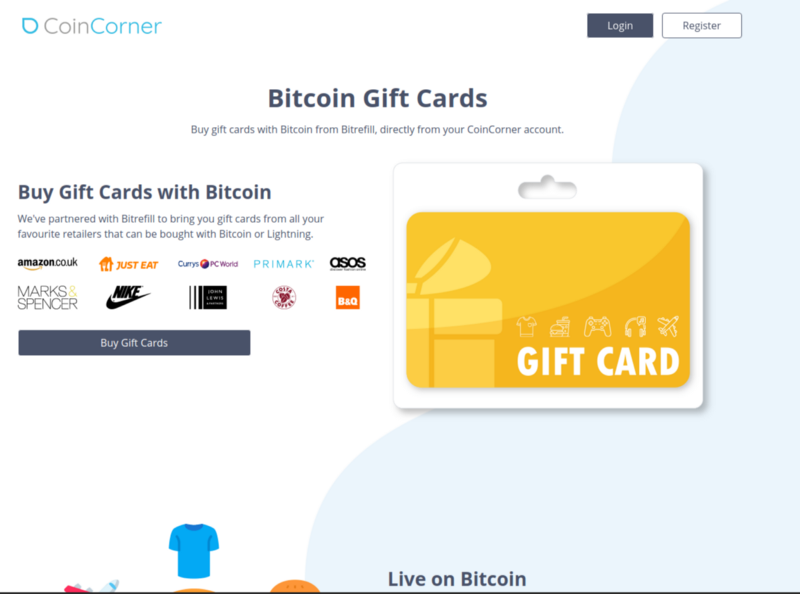 ---
If you found this post helpful, let us know on Twitter, or in our subReddit, r/Bitrefill.
Thank you for using Bitrefill!