Purchase and renew your VPN subscriptions with Bitcoin from two of your favorite VPN providers: Nord VPN & 12VPN
The Bitcoin community is filled with developers, traders, and digital nomads from all over the world. That means that many of you have to access the Web from a full spectrum of jurisdictions and often require a VPN to normally access your favorite websites.
In recent months, we've had many requests to enable purchasing of VPN gift cards with cryptocurrency and we're proud to finally make that possible!
As Bitcoiners, we believe that allowing customers to buy VPN services with Bitcoin is a small but important step to enabling adoption and internet freedom.
Now you can enjoy these two new privacy-focused gift cards by paying Bitcoin, Ethereum, Litecoin, Dash, and Dogecoin — all without having to leak your private financial information.
1. 12VPN: Secure Connection, Improved Privacy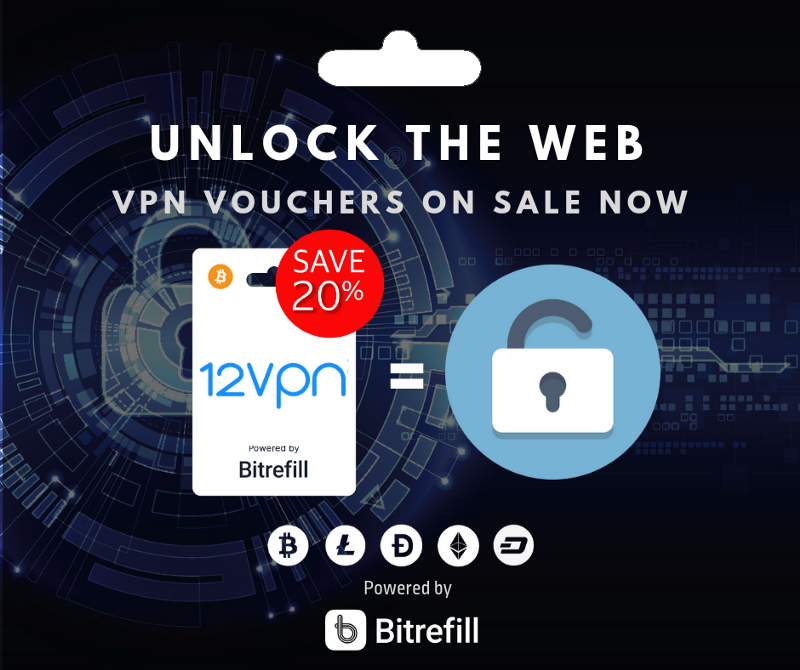 Every day, thousands of expats, travelers and mobile users world-wide enjoy a safe and unrestricted Internet.
With 12VPN, you can benefit from:
Highly optimized and user-friendly VPN software for macOS and Windows
Convenient VPN within Google Chrome with the 12VPN Chrome extension
Profiles to take advantage of your iPhone or iPad's native VPN capabilities
Support for various Android apps as well as native VPN capabilities
Buy 12VPN vouchers on Bitrefill:
2. NordVPN: Protect Your Privacy and Avoid Regional Restrictions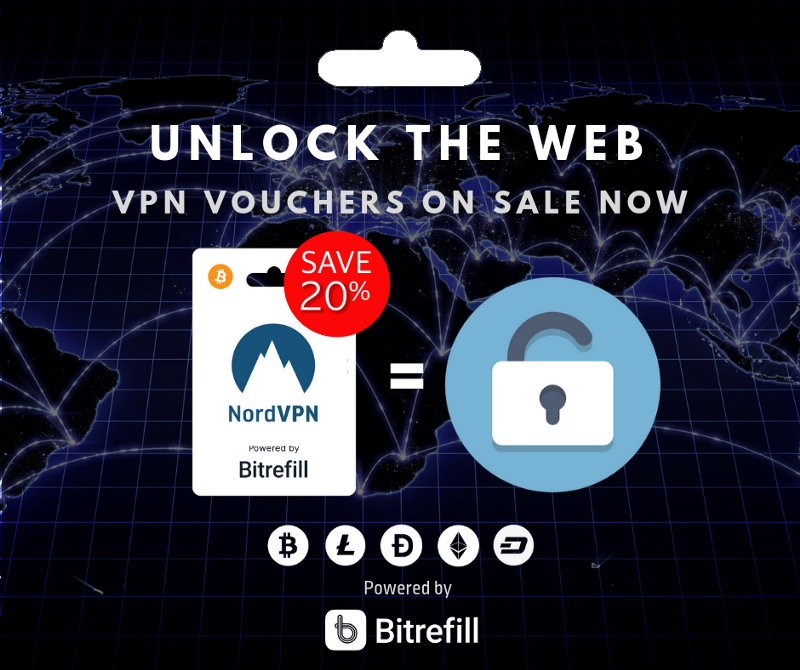 Imagine VPN as a hack-proof, encrypted tunnel for online traffic to flow. Nobody can see through the tunnel and get their hands on your Internet data. Peace of mind each time you use public Wi-Fi, access personal and work accounts on the road, or want to keep your browsing history to yourself.
With Nord VPN you can:
Protect your IP address and makes sure that no one else can see which websites you visit or what files you download.
Keep access to your favorite websites and entertainment content, and forget about censorship or bandwidth limits.
Secure up to 6 devices with a single NordVPN account — computers, smartphones, routers and more.
Enjoy 24/7 assistance and military-grade encryption.
Buy NordVPN vouchers on Bitrefill:
---
Bitrefill makes it possible for people around the world to live on cryptocurrencies with mobile top ups in over 160 countries, and gift cards for travel, video games, restaurants, entertainment, and more using Bitcoin, Litecoin, Ethereum, Dash, and Dogecoin. For quicker access to purchasing top ups and gift cards, download the Android and iPhone apps.
Start browsing Bitrefill's extensive list of gift cards! »
It's now possible to live on crypto! Help us spread the word ❤️