MetaMask, the Portal to the Web3 revolution.
Bitrefill's mission is to offer financial liberty and versatility for anyone wishing to live on crypto. It's been a while since Bitrefill users could pay for their gift cards and other Bitrefill services using MetaMask.

For Ethereum users on our app, it has always been one of the most popular wallets. Its practicality and ease of use have also led it to be one of the most prevailing blockchain wallets on the planet.  

It has been downloaded dozens of millions of times through the App Store and Google Play. Since 2023, over 21 million people use it monthly.  This number has grown 23 times compared to its 2020 levels.

Undeniably, MetaMask is a crucial tool practically impossible to avoid for crypto and web3 enthusiasts.

MetaMask, apart from being a secure self-custodial wallet for your Ethereum and EVM-based crypto assets, is also the gateway to over 3700 web3 applications.

However, integrating yourself into this new paradigm of financial and web innovations might be hard to navigate without a proper curriculum.

That's why MetaMask, with many key partners in the industry like Bitrefill, is officially launching the MetaMask Learn Platform.
About the MetaMask Learn platform and Bitrefill Involvement

Nothing better than to see by yourself the amazing content and material the MetaMask team has created.  Check out this link for more information and start the first course of the curriculum which will introduce you thoroughly to the web3 world. In case you were wondering, it is completely free.

The program aims to be interactive and practical. The first modules are the following;

What is Web3?
What is a crypto Wallet?
The Era of Digital Identity
What is Self-Custody
The Advent of Digital Ownership
NFTs and Creators
Finance, Decentralized
The Age of communities.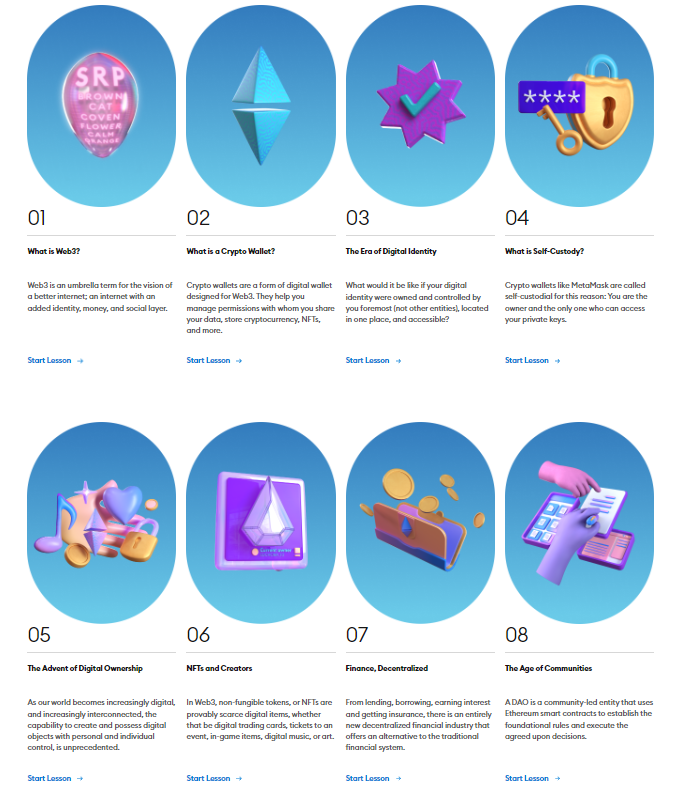 In the following months, MetaMask Learn will expand and build subsequent learning modules to stay up to date with the rapidly evolving Web3 and crypto world. At its launch, it will already be available in 10 languages and aims to support more shortly.

Bitrefill Involvement in Web3 Education

Bitrefill is actively supporting this education effort and will contribute in many ways. We're believers that education is one of the unavoidable pillars of adoption for decentralized tools and enhanced financial liberty.

More practically, we desire to demonstrate and teach web3 users how to use their crypto assets in real life.

We also want to actively integrate web3 technologies to improve the experience of our own application. For example, we just introduced web3 logins on Bitrefill. You can already log in to your Bitrefill account using uniquely your MetaMask wallet. No clunky passwords are needed!

Try it out now using this link. You will see it is easy and fast.

Let us know what you think of this educational effort. Do you think it will actively help you in improving your financial liberty? We would like to hear from you.

Stay tuned to Bitrefill news and novelties by subscribing to our Newsletter!