PRESENTING
BITREFILL CARD
Pay for your everyday purchases with crypto.
Spend up to 15,000 EUR/month with competitive exchange rates.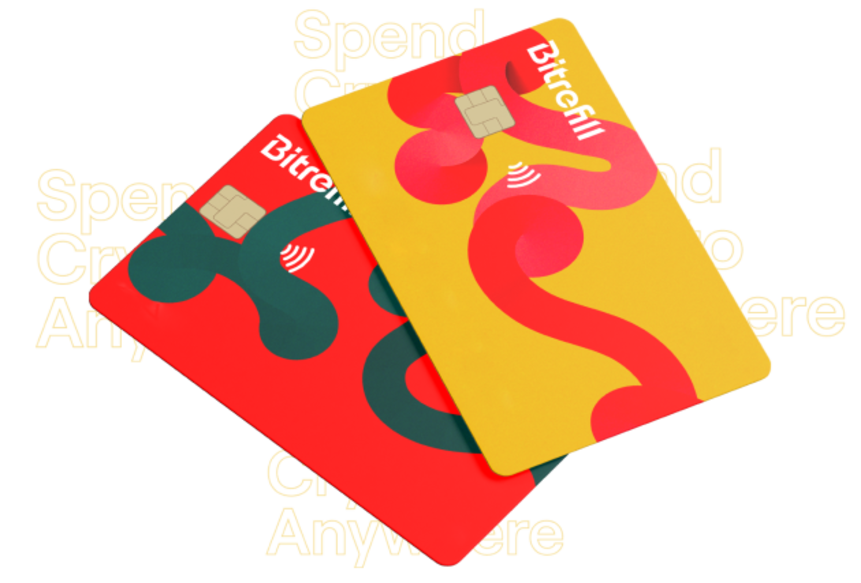 BENEFITS
The only crypto card you need
Pay with your phone
Use the Bitrefill Card with Google Wallet, anywhere contactless is accepted. Apple Pay coming soon.

You choose when to load
Top up your Bitrefill Card with EUR using BTC, ETH, USDC, USDT, BNB and more.
Zero hidden fees
Bitrefill card is free to own, pay only minor conversion fees when you top up.
GETTING EXCITED? 🤩
Pay anywhere using crypto
Our card is launching soon, you can join the waitlist today and make sure you get early access.
Frequently asked questions
Check out our Knowledge Base page for more FAQs
The Bitrefill Card is a virtual payment card that you can use online and in-store at merchants that accept contactless payments. You can add money anytime to your card using crypto, which is converted into euros (EUR) and loaded on to your card for use. You can then spend from that EUR balance wherever you like.
Anyone who is at least 18 years old and resides in one of the following countries may be eligible for a Bitrefill Card: Austria, Belgium, Bulgaria, Croatia, Cyprus, Czech Republic, Denmark, Estonia, Finland, France, Germany, Greece, Hungary, Ireland, Italy, Latvia, Lithuania, Luxembourg, Malta, Netherlands, Poland, Portugal, Romania, Slovakia, Slovenia, Spain, Sweden, Liechtenstein, Norway and Iceland.
Approval for the Bitrefill Card requires an identity and address verification process that is carried out by our card partner.
The Bitrefill Card is accepted online and at merchants that accepts contactless payments. For in-person purchases, Android users can simply tap-to-pay using Google Pay powered by NFC. For those with iOS devices, Apple Pay support is coming soon.
The Bitrefill Card is launching as a virtual-only card that is usable in physical stores on Android devices via Google Pay. Support for Apple Pay, as well as an optional physical card, is coming soon.
We currently accept BTC, ETH, USDT (on Ethereum, ERC-20), USDC (on Ethereum, ERC-20), and BNB (on BSC).
You cannot directly transfer your Bitrefill balance to the Bitrefill Card. To add funds to your card, you'll need to make a transaction from your cryptocurrency wallet. Your Bitrefill balance remains usable for all other available products.
The Bitrefill Card is free and there are no recurring maintenance fees. A conversion fee is applied when you add funds to the card. Bitrefill does not charge foreign transaction fees. For more specifics, please see our Pricing page.
You can spend up to 10,000 EUR daily and 15,000 EUR monthly with your Bitrefill Card.
Yes, you can use the Bitrefill Card for payments worldwide, online and in-store, and without paying any foreign transaction fees. Please note, due to our card partner's policies, usage may be restricted at merchants in .
Yes, you can add money to the Bitrefill Card when you are outside of Europe. Our card partner enforces restrictions for adding money in . To ensure uninterrupted use, we suggest adding money to your Bitrefill Card before visiting these locations.
The custody and exchange of your crypto assets is handled by Striga Technology OÜ, a VASP licensed in Estonia. The card is issued, and payments are provided, by Wallester AS, licensed in Estonia.
Bitrefill never takes possession or has access to your funds.
For detailed information, please refer to Striga's Terms & Conditions, Privacy Policy , and Wallester's Card Terms & Conditions.
Your card is safeguarded by the 3DSecure standard for enhanced security during online transactions, helping to minimize the risk of fraud.
Your card information is controlled and kept safe by our licensed partners. Bitrefill does not have access to your card number, and will process your personal data in strict adherence to GDPR regulations. Please check out our <Link>Privacy Policy</Link>, where you will also find links to our partners' policies.