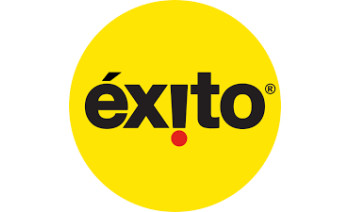 Almacenes Exito 礼品卡
此礼品卡可在实体店兑换
Bitrefill's Exito gift card let's you shop for thousands of products from Exito and pay with Bitcoin, Ethereum, Dash, Dogecoin, and Litecoin.
Code takes 1 business day to be activated. This product requires you to enter your name and Cedula number. You must include the slash as seen in example: Juan Carlos Romero Gonzales/1234567890
Exito stores in Colombia have the best electronics, appliances, clothing, mattresses, food and more.
Voucher valid only for the value that appears on the voucher. Only redeemable at physical stores. If an asset of lesser value is acquired, the difference between the value of the asset and the value of the bond is not delivered.
Redemption valid for one time only. Its sale or exchange for money is prohibited. Check in store if it applies with other promotions or discounts. Valid every day. The loss of this bonus will not have a replacement.
In order to use it online, first you need to redeem this voucher at the physical store and then change it to a gift card that can be used online.
Perfecto, funcionó al 100%, recomiendo indicarle a la cajera el convenio antes de pasar los productos, de lo contrario deben anular la compra y registrarlos nuevamente
Yuliana 1127949024
2021-09-27
Yuliana ruiz
No problems! I was a bit worried because I bought a big one, but everything worked well.
Worked well! No problems.
Bono valido únicamente por el valor que aparece en el bono. Solo canjeable en tiendas físicas. Si se adquiere un bien de menor valor no se entrega la diferencia entre el valor del bien y el valor del bono. Redención valida por un a sola vez. Prohibida su venta o canje por dinero. Verificar en tienda si aplica con otras promociones o descuentos. Válido todos los días. La pérdida de este bono no tendrá reemplazo. Para soporte o ampliación de información contactar a soporte@quantumrewards.co o al 018000113104.
2.

用加密货币付款

在大多数情况下,您的付款会在一分钟内确认
随时随地购买礼品卡
我们提供5,000+多种类型的礼品卡
---