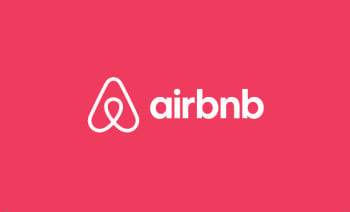 Airbnb 礼品卡
Bitrefill's Airbnb gift card lets you book your next stay and pay with Bitcoin and crypto.
Important info: Currently, you can only purchase a gift card for someone within the same country or region as you, and the person you buy it for needs to have a valid payment method within that country.

If you're in a country where gift cards are supported that's in the European Economic Area (EEA) region—France, Germany, Italy, or Spain—you can purchase a gift card for someone else in one of those EEA countries.
You must have an Airbnb account in order to claim and redeem a Gift Card; you can claim a Gift Card by visiting: airbnb.fr/cadeau (French); airbnb.it/gift (Italian); airbnb.de/einloesen (German); airbnb.es/regalo (Spanish); airbnb.cat/regal (Catalan). Upon claiming, the entire Gift Card value will be shown on your Airbnb account as your Gift Card balance. Gift Card balances may only be redeemed toward the purchase of eligible goods and services provided via Airbnb Ireland UC and its affiliates via the Airbnb Platform. Any booking made with a Gift Card will be deducted from your Gift Card balance, and any unused Gift Card balance will remain on your Airbnb account until used. If a purchase exceeds your existing Gift Card balance, the remaining amount due must be paid with another Payment Method. You can view your Gift Card balance by signing in to your Airbnb account.

No fees of any kind apply to Gift Cards, and Gift Cards and Gift Card balances do not expire. These Gift Card Terms remain applicable until your entire Gift Card balance has been spent.
I used to book my holiday. A+
It works✌️
Card balance does not expire.
No fees apply to purchase or activate this Card.
Redeemable by Spain residents towards the purchase of eligible goods and services on the Airbnb website and app. Use requires an Airbnb account.
Card is non-reloadable and, except where required by law, cannot be redeemed for cash, refunded, returned, or resold. Issuer is not responsible for lost, damaged, or stolen cards, or for unauthorized use.
View Card balance by signing in to your Airbnb account. Issued by Airbnb Ireland UC.

In the EEA, Gift Cards are issued by:

Airbnb Ireland UC
8 Hanover Quay
Dublin 2, D02 DP23
Ireland

Obtain Gift Card or balance information by signing in to your Airbnb account, or by contacting us at:

France: +33 184884000
Germany: +49 30 30 80 83 80
Italy: +39 0699366533
Spain: +34 911234567

These Gift Card Terms are governed by and construed in accordance with Irish law, and your purchase, receipt, and/or redemption of a Gift Card is subject to Irish law unless otherwise specified in the Applicable Law and Jurisdiction section of the Terms. Airbnb may modify these Gift Card Terms at any time. When we make material changes to these Gift Card Terms, we will post the revised Gift Card Terms on the Airbnb Platform and update the "Last Updated" date at the top of these Gift Card Terms. We will also provide you with notice of any changes by email at least 30 days before the date they become effective, and will inform you about your right to terminate your Terms of Service agreement with Airbnb. Unless you terminate your agreement with Airbnb before the date the revised Gift Card Terms become effective, your continued access to or use of the Airbnb Platform will constitute acceptance of the revised Gift Card Terms. All terms and conditions are applicable to the extent permitted by law.

Il saldo della card non ha una data di scadenza. Non si applica alcuna commissione per l'acquisto o l'attivazione della card. Utilizzabile da residenti in Italia e altri paesi supportati per l'acquisto di determinati beni e servizi sul sito Airbnb e l'app. L'uso richiede un account Airbnb. La card non è ricaricabile e, se non richiesto per legge, non può essere convertita in denaro, non è rimborsabile, non può essere restituita o rivenduta. La card è un buono multi-uso. L'emittente non è responsabile della perdita, del danneggiamento, del furto o dell'utilizzo non autorizzato. Il saldo della card è consultabile accedendo al tuo account Airbnb. Emessa da Airbnb Ireland UC. Si applicano termini e condizioni, consulta airbnb.it/terms/eu_gift_cards

Support location:
https://www.airbnb.it/help/article/981/gift-card-di-airbnb
礼品卡怎样兑换
使用您喜欢的币付款
在大多数情况下,您的付款会在同一分钟得到确认。
就是这么简单,可以使用您的礼品卡啦!
兑换卡时需遵守根据零售商的说明和规定。
Airbnb 不接受加密货币,但通过 Bitrefill 您可以用比特币或其他加密货币购买 Airbnb 礼品卡。然后可以在 Airbnb 使用此礼品卡
您可以轻松地将您的比特币或加密货币转换为 Airbnb数字礼物卡。
输入你想要的Airbnb 礼品卡金额 。
选择您要用于支付的加密货币,例如比特币、比特币闪电网络、以太坊、USDT、USDC、莱特币、狗狗币、达世币。或者,您可以使用 Binance Pay 进行支付。
一旦您的付款被确认,您将获得您的 Airbnb 礼品卡代码。
一旦您购买了 Bitrefill 的Airbnb 礼品卡,它几乎会立即通过电子邮件发送给您。或者您可以直接从结账页面兑换礼品卡。
如果您有其他的问题,您可以访问 我们的帮助中心 我们很乐意为您提供帮助。