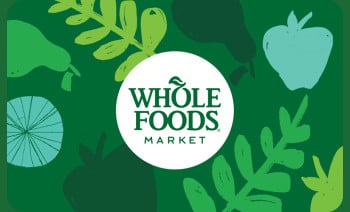 Whole Foods 礼品卡
Whole Foods is one of the most popular upscale health foods grocers in the US. Thanks to Bitrefill's Whole Foods gift card, you can now buy your groceries with Bitcoin, Ethereum, Dash, Dogecoin and Litecoin.
此礼品代码适用于以下国家/地区的 Whole Foods:

🇺🇸

USA

和

🇨🇦

Canada
Whole Foods Market is the leader in natural and organic foods in the US and maintains high-quality standards that prohibit hydrogenated fats and artificial colors, flavors, preservatives, and sweeteners. As the world's healthiest grocery store, they have more than 500 locations across the US, Canada, and UK.
Organic produce: Purchase a wide variety of fresh fruits and vegetables.
Healthy groceries: Shop for natural pantry staples and specialty foods.
Natural body care: Choose from safer personal and home-care products.
Sustainable seafood: Enjoy a selection that prioritises animal welfare.
Using a Whole Foods Market gift card from Bitrefill offers the convenience of paying with Bitcoin, Ethereum, Litecoin, Dash, Dogecoin and other cryptocurrencies. This digital gift card ensures instant delivery of the code that can be redeemed at any Whole Foods Market location in the US and Canada. You can easily check the card balance online at any time, making it a practical and delicious gift option for anyone craving healthful options.
Online. Visit the Gift Cards section of our website. Then, under "Manage Your Gift Cards," enter your card number and card PIN.
On the phone. Call 1-866-936-2255.
In-store. Ask a team member at checkout for help or visit the customer service desk.
Bitrefill is fast and easy to use!
Excellent
Not very easy to use in Canada, as they need to type out the gift card number by hand, and they cannot empty out the gift card in full, and they also cant see your remaining balance until you checked out.
SoulCycle is Life
2021-09-14
I like that you can customize the checkout to $1 (not cents unfortunately) but great for checkout
You can use this card to buy our greens, but it is not redeemable for cash except as required by law. The available balance will be applied toward your purchase from soup to nuts, but may not be used to purchase other gift cards. This card will not be replaced or refunded if lost or stolen, so handle it like a carton of eggs. This card is issued by WFM Gift Card, LLC (the "Issuer"), who is the sole obligor to card owner. This card may not be resold unless approved by the Issuer. Unlike milk, this card doesn't have an expiration date, nor does it incur any fees for any reason. Purchase, acceptance or use of this card constitutes acceptance of the complete terms and conditions, available at wholefoodsmarket.com/terms. For balance or other questions, visit wholefoodsmarket.com/giftcards or call 844-936-2273.
Report an Issue
礼品卡怎样兑换
使用您喜欢的币付款
在大多数情况下,您的付款会在同一分钟得到确认。
就是这么简单,可以使用您的礼品卡啦!
兑换卡时需遵守根据零售商的说明和规定。
Whole Foods 不接受加密货币,但通过 Bitrefill 您可以用比特币或其他加密货币购买 Whole Foods 礼品卡。然后可以在 Whole Foods 使用此礼品卡
您可以轻松地将您的比特币或加密货币转换为 Whole Foods数字礼物卡。
一旦您购买了 Bitrefill 的Whole Foods 礼品卡,它几乎会立即通过电子邮件发送给您。或者您可以直接从结账页面兑换礼品卡。
如果您有其他的问题,您可以访问 我们的帮助中心 我们很乐意为您提供帮助。