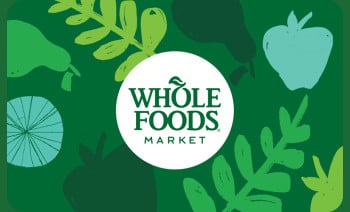 Whole Foods 礼品卡
此礼品卡可在实体店兑换
在 Whole Foods 上使用比特币或加密货币。用比特币,闪电网络,达世币,狗狗币,莱特币,以太坊支付。即时邮件交付。无需开户。用加密货币满足您的一切消费需求。
此礼品代码适用于以下国家/地区的 Whole Foods:🇺🇸 USA and 🇨🇦 Canada
This is a gift card product.
We will provide you with a gift code and
instructions for how you apply the code.
Excellent
Not very easy to use in Canada, as they need to type out the gift card number by hand, and they cannot empty out the gift card in full, and they also cant see your remaining balance until you checked out.
SoulCycle is Life
2021-09-14
I like that you can customize the checkout to $1 (not cents unfortunately) but great for checkout
You can use this card to buy our greens, but it is not redeemable for cash except as required by law. The available balance will be applied toward your purchase from soup to nuts, but may not be used to purchase other gift cards. This card will not be replaced or refunded if lost or stolen, so handle it like a carton of eggs. This card is issued by WFM Gift Card, LLC (the "Issuer"), who is the sole obligor to card owner. This card may not be resold unless approved by the Issuer. Unlike milk, this card doesn't have an expiration date, nor does it incur any fees for any reason. Purchase, acceptance or use of this card constitutes acceptance of the complete terms and conditions, available at wholefoodsmarket.com/terms. For balance or other questions, visit wholefoodsmarket.com/giftcards or call 844-936-2273.
2.

用加密货币付款

在大多数情况下,您的付款会在一分钟内确认
随时随地购买礼品卡
我们提供4,500+多种类型的礼品卡
---