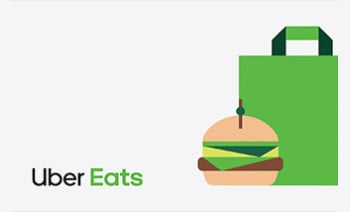 Uber Eats 礼品卡
此礼品卡可在电子商务平台上兑换
在 Uber Eats 上使用比特币或加密货币。用比特币,闪电网络,达世币,狗狗币,莱特币,以太坊支付。即时邮件交付。无需开户。用加密货币满足您的一切消费需求。
🇬🇧
这个礼品卡只对目前在United Kingdom
的用户有效
This is a gift card product.
We will provide you with a gift code and
instructions for how you apply the code.
Bbh
Bitrefill is just awesome.they fast as lightning
Great
I was shocked as it literally took 10 seconds for the coupon to arrive haha, best service ever!
I will like a refund
Very quick way of buying vouchers
works well!
This vouches does not work wtf man
Live Saver, had to order food ASAP and this app came to the rescue lol. Appreciated
Bitrefill Buyer
2020-06-10
I like this, gift card was valid and credited on my account. However, it took me 6 hours to receive the gift card even though it was needed instantly, but I will buy again and is probably the only legit site for gift cards. Thank you
By using this gift card, you accept the following terms and conditions: This gift card can be used to credit your Uber® stored value account accessible via the Uber® or Uber Eats app within the UK in cities where Uber or Uber Eats is available.
You may return non-redeemed gift cards for a full refund within 14-days of purchasing the gift card or code from any online retailer. However, once redeemed, you acknowledge that no refund will be made.
You may be required to add a secondary payment method to use this gift card with the Uber® or Uber Eats app.
Limits mayapply to amounts able to be loaded into your Uber account, and to the amount of spending from your Uber account.
This card is issued by Uber B.V. Keep this gift card safe; issuer is not responsible for lost or stolen cards, or unauthorised use.
For balance, full terms and conditions, and customer service, visit uber.com/legal/gift.
2.

用加密货币付款

在大多数情况下,您的付款会在一分钟内确认
随时随地购买礼品卡
我们提供4,500+多种类型的礼品卡
---