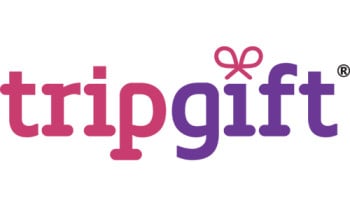 TripGift 礼品卡
Bitrefill's Trip Gift voucher lets you book your next trip and pay with Bitcoin,Ethereum, Dash, Dogecoin, and Litecoin.
TripGift® – Travel Gift Card
TripGift® One gift card – travel anywhere
The International Award winning TripGift® offers the world's best Travel Gift card and Travel booking site.
TripGift® offers everything needed to book a trip online with over 1.5 million options for worldwide travel. With a unique choice of all of your favorite travel brands with over: 450 Airlines | 750,000 Hotels, Villas & Apartments| 500 Car Rental Brand Providers | 50,000 Package Tours | 16 Cruise lines | 30,000 Airport Transfer locations + Digital Media content (200 eLanguage courses) all which you can book and purchase instantly online and using your mobile device directly on the TripGift website.
Bonus* Claim your instant TripGift® travel rewards with every new online booking, only when you play the TripGift® Wheel of Fortune. With Free TripGift® Travel Gift cards and discount voucher codes up for grabs.
Redemption Instructions
To redeem your TripGift® Travel Gift card please visit http://tripgift.com/?aff=inc
Register an Account
Click on Book Trip
Once you have selected the options that best suit your requirements, enter the details of all persons involved in the booking
Proceed to the check-out page
Pay by credit card and/or enter your eGift card code into the Redeem eGift card code box and click submit
Proceed to agree to the terms and conditions
Click 'Order Now' to complete your booking and transaction

If you have any queries, please check out our digital self-serve help desk at https://faqs.tripgift.com
Terms and Conditions
Gift cards must be used as a form of payment towards a new reservation made directly with the TripGift website. 
Gift cards is valid only in CAD for all products that we have available.
Gift cards can only be applied to a NEW individual reservation made in CAD.
Gift cards may be applied to a group reservation where available.
Gift cards may not be used towards property credit or to settle any additional unspecified hotel, cruise, airline or car rental charges or deposits.
Full payment is required at the time of booking.
Gift cards may be used in multiples of two (2) for each transaction any outstanding balance can be paid using Visa, MasterCard, AmEx, Discover card or Diners Club.
All reservations are subject to availability.
Once a reservation has been made with a Gift card, normal cancellation policy and cancellation payments shall apply, subject to the terms and conditions of your booking.
Changes to reservations may not be permitted.
All Gift cards are nonrefundable and not replaceable whether lost, stolen or if booking is cancelled.
Gift cards shall be void where prohibited, if used for fraudulent or illegal purposes or restricted by law and if sold for cash or other consideration.
Each Gift card has no expiry date, subject to any applicable Country and local State law and any required residual refund value in certain Counties and States.
You may redeem this Gift Card online directly with the TripGift websites. This card is not redeemable for cash except where required by law.

All brand logos displayed on our website are the property of the brand and or copyright owner.
礼品卡怎样兑换
使用您喜欢的币付款
在大多数情况下,您的付款会在同一分钟得到确认。
就是这么简单,可以使用您的礼品卡啦!
兑换卡时需遵守根据零售商的说明和规定。
TripGift 不接受加密货币,但通过 Bitrefill 您可以用比特币或其他加密货币购买 TripGift 礼品卡。然后可以在 TripGift 使用此礼品卡
您可以轻松地将您的比特币或加密货币转换为 TripGift数字礼物卡。
输入你想要的TripGift 礼品卡金额 。
选择您要用于支付的加密货币,例如比特币、比特币闪电网络、以太坊、USDT、USDC、莱特币、狗狗币、达世币。或者,您可以使用 Binance Pay 进行支付。
一旦您的付款被确认,您将获得您的 TripGift 礼品卡代码。
一旦您购买了 Bitrefill 的TripGift 礼品卡,它几乎会立即通过电子邮件发送给您。或者您可以直接从结账页面兑换礼品卡。
如果您有其他的问题,您可以访问 我们的帮助中心 我们很乐意为您提供帮助。