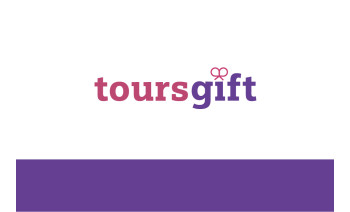 ToursGift SE 礼品卡
用加密货币支付 ToursGift SE 。用Bitcoin, Lightning, Ethereum, Binance Pay, USDT, USDC, Dogecoin, Litecoin, Dash买 ToursGift SE 礼品卡 .电子邮件即时交付。无需注册帐户。用加密货币生活!
Can only be redeemed online at: http://toursgift.com
ToursGift offers everything you need to book local and international private tours online. With more than 20,000 flight + hotel and tour experiences and a choice of travel packages, this offers the ideal opportunity to book trips with a small group. ToursGift offers an exciting range of small party experiences, such as special dinners, hot air balloon or helicopter flights, safaris, and special trips by car or yacht, to create positive memories that will last a lifetime. ToursGift offers the unique ability to split online payments, allowing you to use two payment cards to complete your transaction, earning travel bonus points instantly
Please read the information below on how to redeem your Gift Card. Can only be redeemed online at: http://toursgift.com
1) Create an account at http://toursgift.com then click Trip Book | Redeem
2) Search, book or buy what you want or need.
3) After selecting the options that suit you best, fill in the details of the person or persons involved in the booking or transaction of the product
4) Proceed to checkout and copy and paste the code from your e-Gift Card in the appropriate field (Redeem Gift Card).
1) A maximum of 2 e-Gift Card codes may be redeemed per transaction. If the amount in your shopping cart exceeds the value of the e-Gift Card, you can pay the difference with Visa, MasterCard or American Express.
2)ToursGift gift cards remain valid for 12 months after date of issue; for residents of North America, the gift card is valid indefinitely. The expiration date in Ireland is 60 months and in Australia and Germany it is 36 months, subject to local state and country law and any residual value required for each state and country. Full terms and conditions for the currency and repayment obligations in the country of residence can be found at: http://tripgift.com/info/terms-and-conditions.aspx
3) The full content of the website, customer service, tickets and e-Vouchers are in the English language. Gift Cards & e-Vouchers are non-exchangeable and non-refundable.
4) Frequently asked questions and answers about Gift Cards and how to best use them can be found at https://faqs.tripgift.com
礼品卡怎样兑换
使用您喜欢的币付款
在大多数情况下,您的付款会在同一分钟得到确认。
就是这么简单,可以使用您的礼品卡啦!
兑换卡时需遵守根据零售商的说明和规定。
ToursGift SE 不接受加密货币,但通过 Bitrefill 您可以用比特币或其他加密货币购买 ToursGift SE 礼品卡。然后可以在 ToursGift SE 使用此礼品卡
您可以轻松地将您的比特币或加密货币转换为 ToursGift SE数字礼物卡。
输入你想要的ToursGift SE 礼品卡金额 。
选择您要用于支付的加密货币,例如比特币、比特币闪电网络、以太坊、USDT、USDC、莱特币、狗狗币、达世币。或者,您可以使用 Binance Pay 进行支付。
一旦您的付款被确认,您将获得您的 ToursGift SE 礼品卡代码。
一旦您购买了 Bitrefill 的ToursGift SE 礼品卡,它几乎会立即通过电子邮件发送给您。或者您可以直接从结账页面兑换礼品卡。
如果您有其他的问题,您可以访问 我们的帮助中心 我们很乐意为您提供帮助。