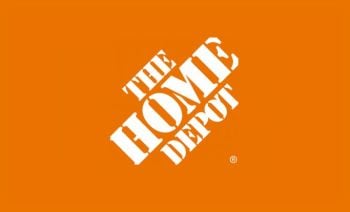 The Home Depot 礼品卡
此礼品卡可在电子商务平台和实体店兑换
在 The Home Depot 上使用比特币或加密货币。用比特币,闪电网络,达世币,狗狗币,莱特币,以太坊支付。即时邮件交付。无需开户。用加密货币满足您的一切消费需求。
This is a gift card product.
We will provide you with a gift code and
instructions for how you apply the code.
Easy with barcode
2022-07-23
Super fast and easy to use with the provided barcode.
The ease of use in store... will use this card again....
Does exactly what it says, got my giftcard in about 5 mins. was worried about using in store since most reviews say you have to type the number but they supply a barcode Scan now. Will use again.
Loved it, bitrefill really does as it says
I was turned away by both cashier and customer service because all I had was my code and pin. They insisted on having the barcode to scan, and I couldn't get online to download an image while I was inside the store. It would be nice to have easy interface to save an image of my gift cards to my phone.
Missing bar code
2021-04-29
Why do you not include bar code with gift card? Someone at home depot has to always manually enter long number manually.
Got $300 gift card using ETH. Got the ecard within 1 minute of sending my eth. Amazing. Ordered online with 0 issues!
Gift Card is valid for the purchase of merchandise/services at any The Home Depot® store in the U.S. and online at HomeDepot.com. Gift Card is not a credit/debit card and is not redeemable for cash or credit unless required by law. Gift Card cannot be applied to any credit or loan balance, Tool Rental Deposits, or for in-home purchases.
To replace a lost or stolen Gift Card, visit your local store. Lost, stolen or damaged Gift Cards will not be replaced without proof of purchase. Replacement value is the value of the Gift Card at the time it is reported lost or stolen. Gift Cards purchased with cash will not be replaced unless required by law.
Returns for purchases made with this Gift Card are subject to The Home Depot's Returns Policy (details available at any The Home Depot store) and eligible refunds will be issued in store credit. Gift Card may be deactivated or rejected if fraud is suspected in the issuer's sole discretion.
Check your balance at any The Home Depot store or online. Reload Gift Card value at any The Home Depot store or online at HomeDepot.com.
For cross-border redemptions, Gift Card is redeemable at The Home Depot's applicable local currency exchange rate at the time of redemption. Gift Card is issued by Home Depot Incentives, Inc.
© 2018 Home Depot Product Authority, LLC. All rights reserved.
Bitrefill is not affiliated with The Home Depot®. The Home Depot® is not a sponsor of this program. The Home Depot® is a registered trademark of Home Depot Product Authority, LLC.
2.

用加密货币付款

在大多数情况下,您的付款会在一分钟内确认
随时随地购买礼品卡
我们提供4,500+多种类型的礼品卡
---