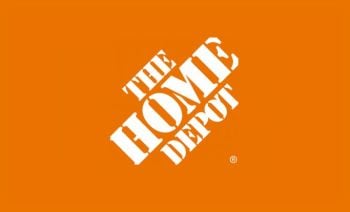 The Home Depot 礼品卡
Pay on Home Depot with Crypto. Home Depot is America's most famous home improvement superstore. Whether you're painting, building, remodeling, or gardening, Home Depot's got you covered. With Bitrefill's Home Depot gift card, you can now use Bitcoin, Ethereum, Dash, Dogecoin, Binance Pay, USDT, or Litecoin for all your home improvement needs.
The Home Depot is helping people do more with their hard earned money. From modest projects like updating your bath to small projects with a big impact like paint, The Home Depot can help you get more done in your home for less. That's the power of the world's largest home improvement retailer. The Home Depot. More saving. More doing.
Gift cards may be redeemed at any The Home Depot® stores and online. They never expire and no service fees will ever be charged when purchasing or using a The Home Depot gift card.
Redeem In Store
* Open your eGift Card on your smartphone or print this page.
* Present the eGift Card barcode at checkout to redeem your eGift Card at any Home Depot store in the U.S.

Cashier Instructions
* eGift Cards should be processed in the same manner as a regular gift card tender. If the barcode does not scan, manually enter the eGift Card number.

Redeem Online
* Shop at homedepot.com online.
* At checkout, please enter the following codes: eGift Card: 00-0 0000 00-0 00 PIN: 0000
* To check your balance or to find your nearest store location, visit www.homedepot.com.
Very easy to use. Unlike Walmart it's easily scanned and can be used at self check
Easy with barcode
2022-07-23
Super fast and easy to use with the provided barcode.
The ease of use in store... will use this card again....
Does exactly what it says, got my giftcard in about 5 mins. was worried about using in store since most reviews say you have to type the number but they supply a barcode Scan now. Will use again.
Loved it, bitrefill really does as it says
I was turned away by both cashier and customer service because all I had was my code and pin. They insisted on having the barcode to scan, and I couldn't get online to download an image while I was inside the store. It would be nice to have easy interface to save an image of my gift cards to my phone.
Missing bar code
2021-04-29
Why do you not include bar code with gift card? Someone at home depot has to always manually enter long number manually.
Got $300 gift card using ETH. Got the ecard within 1 minute of sending my eth. Amazing. Ordered online with 0 issues!
Gift Card is valid for the purchase of merchandise/services at any The Home Depot® store in the U.S. and online at HomeDepot.com. Gift Card is not a credit/debit card and is not redeemable for cash or credit unless required by law. Gift Card cannot be applied to any credit or loan balance, Tool Rental Deposits, or for in-home purchases.
To replace a lost or stolen Gift Card, visit your local store. Lost, stolen or damaged Gift Cards will not be replaced without proof of purchase. Replacement value is the value of the Gift Card at the time it is reported lost or stolen. Gift Cards purchased with cash will not be replaced unless required by law.
Returns for purchases made with this Gift Card are subject to The Home Depot's Returns Policy (details available at any The Home Depot store) and eligible refunds will be issued in store credit. Gift Card may be deactivated or rejected if fraud is suspected in the issuer's sole discretion.
Check your balance at any The Home Depot store or online. Reload Gift Card value at any The Home Depot store or online at HomeDepot.com.
For cross-border redemptions, Gift Card is redeemable at The Home Depot's applicable local currency exchange rate at the time of redemption. Gift Card is issued by Home Depot Incentives, Inc.
© 2018 Home Depot Product Authority, LLC. All rights reserved.
Bitrefill is not affiliated with The Home Depot®. The Home Depot® is not a sponsor of this program. The Home Depot® is a registered trademark of Home Depot Product Authority, LLC.
礼品卡怎样兑换
使用您喜欢的币付款
在大多数情况下,您的付款会在同一分钟得到确认。
就是这么简单,可以使用您的礼品卡啦!
兑换卡时需遵守根据零售商的说明和规定。
The Home Depot 不接受加密货币,但通过 Bitrefill 您可以用比特币或其他加密货币购买 The Home Depot 礼品卡。然后可以在 The Home Depot 使用此礼品卡
您可以轻松地将您的比特币或加密货币转换为 The Home Depot数字礼物卡。
输入你想要的The Home Depot 礼品卡金额 。
选择您要用于支付的加密货币,例如比特币、比特币闪电网络、以太坊、USDT、USDC、莱特币、狗狗币、达世币。或者,您可以使用 Binance Pay 进行支付。
一旦您的付款被确认,您将获得您的 The Home Depot 礼品卡代码。
一旦您购买了 Bitrefill 的The Home Depot 礼品卡,它几乎会立即通过电子邮件发送给您。或者您可以直接从结账页面兑换礼品卡。
如果您有其他的问题,您可以访问 我们的帮助中心 我们很乐意为您提供帮助。