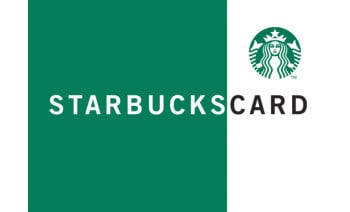 Starbucks 礼品卡
用加密货币支付 Starbucks 。用Bitcoin, Lightning, Ethereum, Binance Pay, USDT, USDC, Dogecoin, Litecoin, Dash买 Starbucks 礼品卡 .电子邮件即时交付。无需注册帐户。用加密货币生活!
Starbucks entered the Indian market in October 2012 through a 50/50 Joint Venture with Tata Global Beverages and currently operates in more than 130 stores in India across Mumbai, Delhi NCR, Hyderabad, Chennai, Bengaluru, Pune, Kolkata and Chandigarh through a network of over 1,700 passionate partners (employees). Starbucks stores are operated by the joint venture, TATA Starbucks Private Limited, and branded as Starbucks Coffee - "A Tata Alliance."
Download the Starbucks India mobile app from App store or Play store.
Register for a new My Starbucks Rewards account or Sign-in with your existing details of My Starbucks Rewards account.
On the Add a Card screen, enter your 14 digit Starbucks gift card number (no spaces) followed by 4 digit CSC code (no spaces).
Your Starbucks Gift Card is ready for use, Tap on Pay section and scan the barcode on the mobile app at any Starbucks store to redeem your Gift card.
By using your Starbucks eGift Card, you agree to the below mentioned Terms and Conditions. Please ensure that you have read carefully and understood these Terms and Conditions before using your Starbucks eGift Card. You further agree that by purchasing or using the Starbucks eGift Card or by quoting the Starbucks Card number to any of the Starbucks store/s located in India, you confirm that you have read, understood and accepted the detailed Terms and Conditions of the Starbucks Card.Card Terms of use.
Redemption :
The Starbucks eGift Card does not have an expiry date. This eGift Card can be redeemed via the Starbucks® India mobile app across all Starbucks stores in India toward purchase of all eligible products available at Starbucks Store. Any Purchases will be deducted from the redeemer's Gift Card balance and any unused Gift Card balance will remain associated with the redeemers Starbucks account. In the event a purchase exceeds the redeemer's eGift Card balance, the remaining amount must be paid by other payment means.
Please follow these steps to redeem the eGift Card in the Starbucks India mobile app:
Download the Starbucks® India mobile app for both App store or Play store
Register for a new My Starbucks Rewards™ account or Sign-in with your existing details of My Starbucks Rewards™ account
On the 'Add a Card' screen, enter your 14 digit Starbucks gift card number (no spaces) followed by 4 digit CSC code (no spaces).
Your Starbucks eGift Card is ready for use, Tap on 'Pay' section and scan the barcode on the mobile app at any Starbucks store to redeem your eGift card.
Limitations :
The maximum limit to purchase a Starbucks eGift Card is INR 10,000. These eGift Cards cannot be used to purchase other gift cards nor can you use the Starbucks eGift Card/s to make a payment on a credit account. Once purchased, the Starbucks eGift Card cannot be cancelled by the purchaser nor can they be reloaded, resold, transferred for value or redeemed for cash or credit. Unused eGift Card balances associated with Starbucks account may not be transferred to another Starbucks account. No interest shall be payable towards any balance/unused amount in eGift card. The eGift cards are for personal, non-commercial use only.
Starbucks Account Eligibility Criteria :
For Starbucks account membership, you should be competent to enter into a contract i.e. you should have attained the age of eighteen (18) according to the prevailing Indian law. Any person under the age of eighteen (18), may only operate the Starbucks account under the supervision of a parent or legal guardian who agrees to be bound by these Terms and Conditions
Fraud:
You are solely responsible for the safety and security of the eGift Card. Starbucks India is not responsible for any acts of omission or commission if Starbucks eGift Card is lost, stolen or used without permission. Once the Starbucks eGift Card has been sent to you, you are bound to protect the Starbucks eGift Card 14 digit number and the 4 digit CSC code as confidential.
IN THE EVENT THAT A GIFT CARD IS NON-FUNCTIONAL, YOUR SOLE REMEDY (AND STARBUCKS INDIA'S SOLE POTENTIAL LIABILITY) SHALL BE THE REPLACEMENT OF SUCH GIFT CARD.
Purchases made with value from the Starbucks eGift Card are not refundable, except where required by law.Issuer assumes no responsibility for the products purchased using the Gift Cards and any liability thereof is expressly disclaimed. For questions pertaining to redemption and value for Starbucks Card/s, please contact Tata Starbucks Customer Care at 18602660010 (9am to 9pm) or at customercare@tatastarbucks.com.
Changes to these Terms and Conditions: Starbucks India reserves the right to add, alter, amend and revise terms and conditions as well as the rules and regulations governing the eGift Card without prior notice, and without assigning any reasons thereof. In the event of such changes, the latest terms & conditions will be updated and viewed on our Website
Cancellation of these Terms and Conditions:
Starbucks India may suspend or terminate these terms and conditions and revoke or limit any or all of the rights and privileges granted to you at any time without notice or liability.Termination may also result from your fraudulent or unauthorized use of the eGift Card.
Governing Law:
All disputes, in connection with eGift Card or its program shall be governed and construed in accordance with Indian Laws and are subject to the exclusive jurisdiction of Competent Courts at Mumbai only.You agree to indemnify Starbucks for all claims brought by a third party against it or its affiliates arising out of or in connection with a breach of any of these terms and conditions
Trademark Information:
The "Starbucks," "Starbucks Coffee" and Siren Logo trademarks are owned by Starbucks Corporation and used by the Company under a license.The "TATA" mark and logo are owned by Tata Sons Limited and are used by the Company under a license from Tata Sons Limited. All other trademarks, service marks, domain names, logos, company names and indicia of origin referred to on the Sites are either trademarks, service marks, domain names, logos, company names or indicia of origin or are otherwise the property of the Company or its affiliates or licensors.Other product or company names referred to on the Sites may be trademarks of their respective owners. You may not use any trademark, service mark, domain name, logo, company name, trade name or indicia of origin of the Company, Starbucks Corporation, Tata Sons Limited or any third party without permission from the owner of the applicable trademark, service mark, domain name, logo, company name, trade name or indicia of origin. You may contact the Company by sending an e-mail to Customer Care or writing to Tata Starbucks Private Limited, Customer Care, 4th Floor, New Excelsior Building, Amrit Keshav Nayak Marg, Fort, Mumbai – 400 001 to request written permission to use trademarks, indicia of origin and materials on the Sites for purposes other than stated in these Terms of Use or for all other questions relating to the Sites.
Limitation of Liability:
STARBUCKS DOES NOT MAKE ANY WARRANTIES, EXPRESS OR IMPLIED, WITH RESPECT TO GIFT CARDS, INCLUDING WITHOUT LIMITATION, ANY EXPRESS OR IMPLIED WARRANTY OF MERCHANTABILITY OR FITNESS FOR A PARTICULAR PURPOSE. IN THE EVENT A GIFT CARD IS NON-FUNCTIONAL, YOUR SOLE REMEDY WILL BE THE REPLACEMENT OF SUCH GIFT CARD. IF APPLICABLE LAW DOES NOT ALLOW LIMITATIONS ON IMPLIED WARRANTIES OR THE EXCLUSION OR LIMITATION OF CERTAIN DAMAGES, SOME OR ALL OF THE ABOVE DISCLAIMERS, EXCLUSIONS, OR LIMITATIONS MAY NOT APPLY TO YOU, AND YOU MAY HAVE ADDITIONAL RIGHTS.
礼品卡怎样兑换
使用您喜欢的币付款
在大多数情况下,您的付款会在同一分钟得到确认。
就是这么简单,可以使用您的礼品卡啦!
兑换卡时需遵守根据零售商的说明和规定。
Starbucks 不接受加密货币,但通过 Bitrefill 您可以用比特币或其他加密货币购买 Starbucks 礼品卡。然后可以在 Starbucks 使用此礼品卡
您可以轻松地将您的比特币或加密货币转换为 Starbucks数字礼物卡。
输入你想要的Starbucks 礼品卡金额 。
选择您要用于支付的加密货币,例如比特币、比特币闪电网络、以太坊、USDT、USDC、莱特币、狗狗币、达世币。或者,您可以使用 Binance Pay 进行支付。
一旦您的付款被确认,您将获得您的 Starbucks 礼品卡代码。
一旦您购买了 Bitrefill 的Starbucks 礼品卡,它几乎会立即通过电子邮件发送给您。或者您可以直接从结账页面兑换礼品卡。
如果您有其他的问题,您可以访问 我们的帮助中心 我们很乐意为您提供帮助。