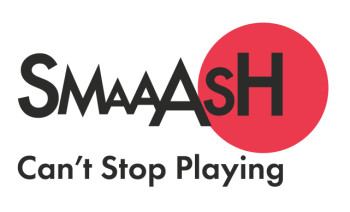 Smaaash 礼品卡
用加密货币支付 Smaaash 。用Bitcoin, Lightning, Ethereum, Binance Pay, USDT, USDC, Dogecoin, Litecoin, Dash买 Smaaash 礼品卡 .电子邮件即时交付。无需注册帐户。用加密货币生活!
SMAAASH is one of India's acclaimed gaming and entertainment centers that marries sports, virtual reality, music and dining into an immersive, evolved, interactive and innovative social experience for family, friends and children alike. Helmed by creative ideator Shripal Morakhia, SMAAASH renowned in the field of sports simulation technology and proprietary gamification technologies such as a unique twilight bowling zone, motor racing and bike racing simulators and the go-karting tracks. Being a virtual reality led entertainment gaming center - vastly credited to its in-house research and production capabilities, head mounted displays are used to produce games such as Walk the Plank, Finger Coaster, Cockpit 360 etc.SMAAASH implores the child in you to joyously revel in an unmatched range of activities ranging from highly interactive sports simulators to many more thrilling and recreational attractions. With its current presence in 32 centres across 16 cities. SMAAASH also touted as one of India's entertainment powerhouse in foreign shores with its Mall of America launch. Redefining sports entertainment and customer engagement with ground-breaking entertainment ideas and novel dining concepts, SMAAASH has something for everyone anyone of any age making it a perfect destination for kids of all ages.
NOTE:Voucher code will be delivered within 5 to 6 workig days.
E- gift redemption can be done through visit Smaaash Center by showing screenshot, emails images and e- codes.
Not valid on F&B. Only valid on SMAAASH game recharges Normal waiting times apply.
Government tax is applicable on all game rates.
Not applicable on package deals
SMAAASH card charge of Rs.25 will be charged(refundable).
Any issues and discrepancy please call on to Smaaash Customer care No-9920088333.
Valid Egifts Code @ respective Smaaash Center.
Mumbai Lower parel, Gurgaon Cyberhub, Noida Mall of India, Hyderabad Inorbit Mall, Bangaolore 1MG mall,Ludhiana MBD Mall,Gurgaon Sec29.
礼品卡怎样兑换
使用您喜欢的币付款
在大多数情况下,您的付款会在同一分钟得到确认。
就是这么简单,可以使用您的礼品卡啦!
兑换卡时需遵守根据零售商的说明和规定。
Smaaash 不接受加密货币,但通过 Bitrefill 您可以用比特币或其他加密货币购买 Smaaash 礼品卡。然后可以在 Smaaash 使用此礼品卡
您可以轻松地将您的比特币或加密货币转换为 Smaaash数字礼物卡。
输入你想要的Smaaash 礼品卡金额 。
选择您要用于支付的加密货币,例如比特币、比特币闪电网络、以太坊、USDT、USDC、莱特币、狗狗币、达世币。或者,您可以使用 Binance Pay 进行支付。
一旦您的付款被确认,您将获得您的 Smaaash 礼品卡代码。
一旦您购买了 Bitrefill 的Smaaash 礼品卡,它几乎会立即通过电子邮件发送给您。或者您可以直接从结账页面兑换礼品卡。
如果您有其他的问题,您可以访问 我们的帮助中心 我们很乐意为您提供帮助。