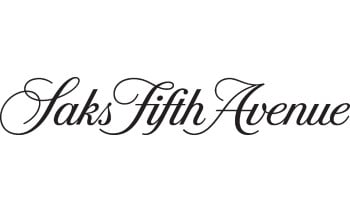 Saks Fifth Avenue 礼品卡
Saks 5th Avenue is one of the most exclusive and elegant fashion boutiques in the US. With a Bitrefill Saks 5th Avenue gift card, you can now purchase all the most stylish and popular designer apparel with Bitcoin, Ethereum, Dash, Dogecoin, and Litecoin.
Saks Fifth Avenue and saks.com offer the best of European and American designers for men's & women's apparel, shoes, handbags, beauty and more.

A Saks Fifth Avenue eGift card may be the perfect gift when you want to be certain you will delight the person who receives it. Since 1924 Sakes 5th Avenue has been the embodiment of luxury shopping for top European and American designer fashions in formal, dress, leisure and activewear, shoes, jewelry, cosmetics, and more for women, men and children. You will find the most prestigious brands, including SAINT LAURENT, Boglioli, Diane von Furstenberg and more. Also shop for home décor, kitchen, bed, bath, dining, entertaining and more for the home. Use Saks 5th Avenue eGift cards at Saks store throughout the United States and online at saks.com.
Online Redemption Instructions
1. ONLINE at saks.com or saksoff5th.com
2. At checkout, choose "Pay by gift card" and enter the card number and PIN

In-Store Redemption Instructions
1. IN STORE at Saks Fifth Avenue or Saks Fifth Avenue OFF 5TH
2. Print and bring the printed copy of this eGift Card with you to the store

In-Store Mobile Redemption Instructions Recipient:
To redeem your eGift Card from a mobile device display the gift card number and associated PIN (if applicable) to the cashier at the time of purchase.

Cashier: Hand key the gift card number and associated PIN (if applicable) into the POS.
Was able to purchase and combine 2 $500 gift cards and check out immediately. Nice and easy.
worked great, i needed to put a cc anyways (if the gc didnt cover full amt) but a vcc worked fine. bitrefill always comes through!
This card works great The cashier was able to use the pin and make the payment. Will use again
Worked perfect with Picture on the phone instore
This Gift Card may be used only to purchase merchandise and services sold at Saks Fifth Avenue stores, Saks Fifth Avenue OFF 5TH stores, through 800.347.9177, saks.com or saksoff5th.com . This gift card may not be applied to online purchases that are shipped to a non-U.S. address. It may not be used to purchase Gift Cards.
This Gift Card may not be returned, redeemed for cash except as required by law or used as payment or credit toward any credit card accounts. Lost, stolen or damaged Gift Cards may be cancelled and replaced with a new Gift Card in the amount of the then-remaining balance upon proof as required by Saks Fifth Avenue. Merchandise Credit, LLC issued this Gift Card. For balance inquiry, call 888.695.4872. No expiration date. Visit saks.com for full terms & conditions.
礼品卡怎样兑换
使用您喜欢的币付款
在大多数情况下,您的付款会在同一分钟得到确认。
就是这么简单,可以使用您的礼品卡啦!
兑换卡时需遵守根据零售商的说明和规定。
Saks Fifth Avenue 不接受加密货币,但通过 Bitrefill 您可以用比特币或其他加密货币购买 Saks Fifth Avenue 礼品卡。然后可以在 Saks Fifth Avenue 使用此礼品卡
您可以轻松地将您的比特币或加密货币转换为 Saks Fifth Avenue数字礼物卡。
输入你想要的Saks Fifth Avenue 礼品卡金额 。
选择您要用于支付的加密货币,例如比特币、比特币闪电网络、以太坊、USDT、USDC、莱特币、狗狗币、达世币。或者,您可以使用 Binance Pay 进行支付。
一旦您的付款被确认,您将获得您的 Saks Fifth Avenue 礼品卡代码。
一旦您购买了 Bitrefill 的Saks Fifth Avenue 礼品卡,它几乎会立即通过电子邮件发送给您。或者您可以直接从结账页面兑换礼品卡。
如果您有其他的问题,您可以访问 我们的帮助中心 我们很乐意为您提供帮助。