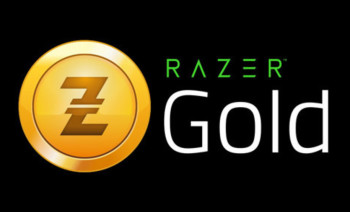 Razer Gold 礼品卡
Razer Gold is the most popular cross-platform in game currency for purchasing upgrades and in-game items, skins, and more. With Bitreill's Razer Gold gift card, you can now purchase Razer Gold with Bitcoin, Ethereum, Dash, dogecoin, and Litecoin.
Razer Gold is the unified virtual credits for gamers worldwide. Use Razer Gold to buy games and in-game content to get more bang for your buck—including getting rewarded with Razer Silver and exclusive game deals.
You can make a purchase using Razer Gold in over 2,000 games and entertainment content. Get started by buying Razer Gold today.
Each spend in Razer Gold earns you Razer Silver, the only loyalty rewards program for gamers.
Reload your Razer Gold account to purchase games, digital content and services.Reload your Razer Gold account at gold.razer.com
Go to gold.razer.com and login to your Razer Gold account Click on [Reload Now] and select Razer Gold Gift Card as your payment method Start spending your Razer Gold to earn Razer Silver Or Choose [Razer Gold] at supported games, digital content and services
Good site for selling cards It deserves more than 5 stars
it was my first purchase 100 usd i know it not a small money to try if this site is scam or not but i went for it and omg i don't expect how fast it was it toke me 0 fee from binance and 0 fee from this site even sorry about my bad english
Good
I paid total 201 Doge coin,(106+95), Why I get only 40$
Received in 10m Really good
thanks bitrefill
Thank you, you are the best site
Received Instantly
2020-06-08
I'm fully satisfied with the instant service. Keep up the great work.
BTC FAST DELEVRY
2019-11-08
BTC FAST DELEVRY
For use in the United States only. Usage of this card is subject to user's acceptance of Razer Gold's Terms of Service and Privacy Policy at gold.razer.com. Compatible software/hardware/internet access required. Risk of loss and title for this card passes to purchaser upon purchase. Razer is not responsible for any loss or damage resulting from lost or stolen cards, or use without permission, or incorrect use.
Not for resale. Not redeemable for cash. No refunds or exchanges, except as required by law. Razer and its licensees, affiliates and licensors make no warranties express or implied with respect to this card and disclaim any warranty to the fullest extent available and as permitted by law. Void where prohibited.
Content availability and pricing may change. For customer support, visit us at gold.razer.com.
Copyright © 2019 Razer Inc. All rights reserved.
EXPIRATION DATE: Does not expire
礼品卡怎样兑换
使用您喜欢的币付款
在大多数情况下,您的付款会在同一分钟得到确认。
就是这么简单,可以使用您的礼品卡啦!
兑换卡时需遵守根据零售商的说明和规定。
Razer Gold 不接受加密货币,但通过 Bitrefill 您可以用比特币或其他加密货币购买 Razer Gold 礼品卡。然后可以在 Razer Gold 使用此礼品卡
您可以轻松地将您的比特币或加密货币转换为 Razer Gold数字礼物卡。
输入你想要的Razer Gold 礼品卡金额 。
选择您要用于支付的加密货币,例如比特币、比特币闪电网络、以太坊、USDT、USDC、莱特币、狗狗币、达世币。或者,您可以使用 Binance Pay 进行支付。
一旦您的付款被确认,您将获得您的 Razer Gold 礼品卡代码。
一旦您购买了 Bitrefill 的Razer Gold 礼品卡,它几乎会立即通过电子邮件发送给您。或者您可以直接从结账页面兑换礼品卡。
如果您有其他的问题,您可以访问 我们的帮助中心 我们很乐意为您提供帮助。