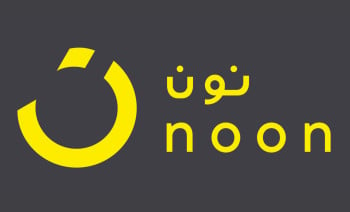 Noon.com 礼品卡
Bitrefill's Noon gift card lets you shop and pay with Bitcoin, Ethereum, Dash, Dogecoin, Litecoin, and USDT.
🇸🇦

这个礼品卡只能在 Saudi Arabia使用
noon is the Middle East's homegrown marketplace. Discover and shop for products you love on an easy and secure platform. With fast delivery, easy payment and return options and a 24-hour customer service, find everything you need at competitive prices only on noon. All noon's products are backed by their authenticity promise and noon warranty.

Everything! From electronics to fashion, beauty to baby products and even groceries, noon has it all. On noon you can find a gift for anyone. Keep those gadget geeks happy with everything tech from mobile accessories, power banks, audio/video, wearable tech and even gaming sets.

Shopping for a fashionista? Look no further. noon has all your favourite retail brands for clothing, accessories, shoes, jewellery and more. They even have the best in sportswear from Nike and Adidas to Reebok.

You can also keep it generic with all-for-one gifts for the home and family. From home décor to the latest kitchen appliances noon's catalogue is unmatched. Your loved ones can shop from the comfort of their home, at the click of a button and with endless choices.
This eGift Card will be activated within 48 hours from the time of purchase.

Redemption steps:
On your browser:
Step 1: Log in to noon.com > click on My Account > and select Noon Credits from the drop-down menu
Step 2: Enter the unique alphanumeric number and PIN >Tap on Redeem and start shopping.

On your Noon App:
Step 1: Open the Noon App and Log in to your account. Select "My Account" > Select "Gift Cards"
Step 2: Tap on the "Redeem Gift Card" tab
Step 3: Enter your eGift Card number and the PIN and click on 'PROCEED'
Step 4: Tap on "REDEEM GIFT CARD"
Step 5: Yalla, start shopping!
Step 6: Select "noon pay" on the checkout page.

This eGift card must be redeemed within 3 months from purchase date. Once this eGift card has been redeemed, the credits have no expiry date. Expired eGift card cannot be extended, exchanged or refunded.
It's fast
اعجبني
Perfect transaction with lightning, redeeming is confusing but the steps are, Copy the gift card code and then go to the website on browser you need to Gift card not Noon credits, enter the code and then the PIN which is below the code "Serial Number" it's only 4 numbers.
التجربة الثانية وكانت جدا ممتازة، السعر مناسب وايضا الكود لا يوجد فيه اي مشاكل
ibrahim alqarni
2020-12-15
انا سعيد بالتعامل معكم تحويل سريع وتعامل ممتاز شكرا جزيلا
This eGift card has to be used to top up your noon.com wallet to purchase any product on noon.com platform or please visit website https://www.noon.com/saudi-en/

The credit can be redeemed on Noon's website www.noon.com, using the unique code on the gift cards within (1) year from the issue creation date.
Once the gift card value is transferred into the Noon wallet, customer will have unlimited validity.
礼品卡怎样兑换
使用您喜欢的币付款
在大多数情况下,您的付款会在同一分钟得到确认。
就是这么简单,可以使用您的礼品卡啦!
兑换卡时需遵守根据零售商的说明和规定。
Noon.com 不接受加密货币,但通过 Bitrefill 您可以用比特币或其他加密货币购买 Noon.com 礼品卡。然后可以在 Noon.com 使用此礼品卡
您可以轻松地将您的比特币或加密货币转换为 Noon.com数字礼物卡。
输入你想要的Noon.com 礼品卡金额 。
选择您要用于支付的加密货币,例如比特币、比特币闪电网络、以太坊、USDT、USDC、莱特币、狗狗币、达世币。或者,您可以使用 Binance Pay 进行支付。
一旦您的付款被确认,您将获得您的 Noon.com 礼品卡代码。
一旦您购买了 Bitrefill 的Noon.com 礼品卡,它几乎会立即通过电子邮件发送给您。或者您可以直接从结账页面兑换礼品卡。
如果您有其他的问题,您可以访问 我们的帮助中心 我们很乐意为您提供帮助。