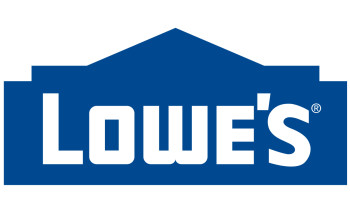 Lowe's 礼品卡
With a Lowe's gift card from Bitrefill you can now pay for all your home improvement needs with Bitcoin, Lightning, Ethereum, Binance Pay, USDT, USDC, Dogecoin, Litecoin and Dash.
Lowe's carries brand names they love and trust.

The Lowe's Gift Card is The Perfect Gift. Lowe's has gifts for all occasions and for everyone on your list. You'll find everything from cutting edge gadgets and tools to practical housewarming gifts and workshop essentials. The Lowe's Gift Card can help start any home project large or small that will add value to the home. There are no expirations, no fees and the Lowe's Gift Card is good towards purchases at over 1,700 Lowe's stores.
How to Redeem Online
1. After you have completed your shopping proceed to your cart to checkout.
2. Input the eGift Card Number and PIN as method of payment at check out.
3. Press Apply.

How to Redeem in Stores
1. Print out this Lowe's eGift Card.
2. Make sure it includes the eGift Card number and PIN.
3. Give this print-out to your cashier.

In-Store Mobile Redemption Instructions
Recipient:
To redeem your eGift Card from a mobile device display the barcode, gift card number and associated PIN (if applicable) to the cashier at the time of purchase.

Cashier:
Scan the barcode off of the mobile device and/or hand key the gift card number and associated PIN (if applicable) into the POS.
Super easy to use and near instant transaction. It is really nice to get a gift card with the exact amount you want.
Easiest way to buy gift cards with Bitcoin and redeem while you earn SATs for buying and spending.
Purchased 2 Lowes gift cards while waiting in line to purchase a fridge. Worked no problem. The cashier scanned the barcode that I received via email, entered the pin. Received my 5% back from Bitrefill as well.
5 stars just cuz of the 10% deal. So when you want to use in store, select / show barcode, so the poor cashier doesn't have to type in the whole number. I used online a few times works as a charm. So it basically pays the tax in savings, I bought 2 cameras at $280 and I paid sticker price and not a penny more due to the 10% savings.
Easy to use but the cashier has to type in the whole card number. The older cards with barcodes were better.
Perfect.
Received in few seconds after the transaction confirmation and used online without any issues few minutes after. Thanks a lot!!!
This is a Lowe's Gift Card and is valid in US only. This is not a credit/debit card and has no implied warranties. This card is not redeemable for cash unless required by law and cannot be used to make payments on any charge account or used to purchase any other retailer or third party gift card. Lowe's reserves the right to deactivate or reject any Gift Card issued or procured through fraudulent activity.
Lost or stolen Gift Cards can only be replaced upon presentation of original sales receipt for any remaining balance. It will be void if altered or defaced. To check your Lowe's Gift Card balance: visit Lowes.com/giftcards; call 1-800-560-7172 or see Customer Service Desk at any Lowe's store. ©2019 Lowe's. LOWE'S and Gable Mansard Design are registered trademarks of LF, LLC.
LOWE'S® and the GABLE MANSARD DESIGN are registered trademarks and service marks of LF, LLC. Lowe's® is not affiliated with Bitrefill.
礼品卡怎样兑换
使用您喜欢的币付款
在大多数情况下,您的付款会在同一分钟得到确认。
就是这么简单,可以使用您的礼品卡啦!
兑换卡时需遵守根据零售商的说明和规定。
Lowe's 不接受加密货币,但通过 Bitrefill 您可以用比特币或其他加密货币购买 Lowe's 礼品卡。然后可以在 Lowe's 使用此礼品卡
您可以轻松地将您的比特币或加密货币转换为 Lowe's数字礼物卡。
输入你想要的Lowe's 礼品卡金额 。
选择您要用于支付的加密货币,例如比特币、比特币闪电网络、以太坊、USDT、USDC、莱特币、狗狗币、达世币。或者,您可以使用 Binance Pay 进行支付。
一旦您的付款被确认,您将获得您的 Lowe's 礼品卡代码。
一旦您购买了 Bitrefill 的Lowe's 礼品卡,它几乎会立即通过电子邮件发送给您。或者您可以直接从结账页面兑换礼品卡。
如果您有其他的问题,您可以访问 我们的帮助中心 我们很乐意为您提供帮助。