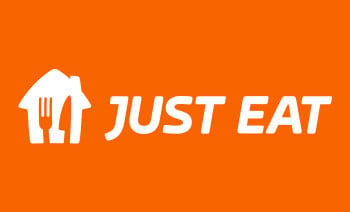 Just Eat 礼品卡
用加密货币支付 Just Eat 。用Bitcoin, Lightning, Ethereum, Binance Pay, USDT, USDC, Dogecoin, Litecoin, Dash买 Just Eat 礼品卡 .电子邮件即时交付。无需注册帐户。用加密货币生活!
Just Eat is a British online food order and delivery service. It acts as an intermediary between independent takeaway food outlets and customers.
1. Head to just-eat.ch/en/ and add your postcode.

2. Select from thousands of great restaurants.

3. Add something tasty to your basket, then continue to checkout.

4. At the bottom of the screen click 'ADD VOUCHER' to add your gift card code to your order.

5. When you checkout, the value of your gift card will be deducted from your order total.

6. And that's it. Sit back, wait for the doorbell to ring and enjoy your food!


1. To purchase a Just Eat gift card, please visit giftcards-just-eat.ch/ch_en/ follow the instructions to order your gift card.

2. Gift cards can currently only be redeemed on Just-Eat.ch.

3. The gift card belongs to Just Eat and you will only ever need to contact Just Eat if you have any issues with gift cards or when you require refunds.

4. Your gift card will function as a Just Eat voucher, meaning: i) You can use the gift card by inserting it at the checkout page on Just-Eat.ch or in the mobile app. ii) Any remaining amount can be paid with one of the available online payment methods. iii) The gift card can be used multiple times until the total amount has been redeemed. iv) Gift cards cannot be used in conjunction with other discounts or promotions provided or advertised from time to time. v) Gift cards may not be transferred, copied, reproduced, distributed, or published directly or indirectly in any form. vi) Applicable conditions of the individual restaurant may apply to the redemption of the gift card, such as minimum order values.

5. Purchases of gift cards have a 14-day refund period, from date of receipt, after which they are non-refundable. Just Eat will not be able to refund gift cards which have already been partially or wholly used. Refunded gift cards will be cancelled and the gift card will be held to be void.

6. Purchases of gift cards are non-exchangeable and once a gift card has been purchased, the value of the account credit is non-transferable.

7. Gift cards cannot be topped up.

8. Gift cards cannot be used to purchase other Just Eat gift cards. gift cards cannot be reloaded, resold, transferred for value or redeemed for cash, except to the extent required by law. Unused gift cards cannot be transferred to another Just Eat platform.

9. Just Eat reserves the right not to fulfil a gift card purchase at their own discretion and they will refund the transaction in that case.

10. If they believe that at the point of purchase or retrospectively you are abusing gift cards in any way or selling them to others, they reserve the right to cancel your gift card and close your Just Eat account without letting you know beforehand.

11. Just Eat reserves the right to prevent third parties from distributing or advertising its gift cards, at its own discretion.

12. Just Eat is not responsible for gift cards sold or distributed by a third party not approved by Just Eat.

13. In no event will Just Eat be liable to you for any indirect, consequential, exemplary, incidental, special or punitive damages, including also lost profits, even if Just Eat has been advised of the possibility of such damages.

14. Gift cards are valid for at least 12 months after the date of purchase. Where local legislation prescribes a longer expiration term and this 12-month period has already passed, making you unable to redeem your gift card, please contact the local customer services department of Just Eat who will be able to support you.

15. Any unused credit will be treated as a forfeiture by you in respect of the right to use the gift card and the unused credit can no longer be redeemed. The expiration date as stated upon delivery of the gift card will be considered an appropriate time period before this clause is applied.

16. If the value of your purchase (including service charge and restaurant charges where applicable) is less than the value of the gift card, the remaining account credit balance can be redeemed when you next make a purchase.

17. When you cancel a Just Eat order and a gift card was used as full or part payment, your gift card will be temporarily blocked and will be usable again after 24 hours. There will be no monetary exchange for returned or cancelled orders made with a gift card.

18. They reserve the right to amend these terms and conditions at any time.

19. The general terms and conditions found on the Just-Eat.ch will apply to the purchase and usage of gift cards, and by purchasing a gift card you are also bound by the general terms and conditions.

20. The Just Eat Privacy Policy found on their website applies to the extent they may collect or handle any personal information in connection with the gift cards.

21. When you purchase a gift card you warrant to them that you are the duly authorised recipient of the gift card and that you are using it in accordance with these terms, lawfully, legally and in good faith. If they believe at their sole discretion that a gift card is being used in breach of these terms, unlawfully, illegally or in bad faith, they may reject or cancel the gift card.

22. These terms and conditions and any dispute or claim (including a non-contractual dispute or claim) arising out of or in connection with these terms and conditions shall be governed by the laws of Switzerland and subject to the exclusive jurisdiction of the Swiss courts.

23. Gift voucher will be delivered within 6 to 7 working days.

礼品卡怎样兑换
使用您喜欢的币付款
在大多数情况下,您的付款会在同一分钟得到确认。
就是这么简单,可以使用您的礼品卡啦!
兑换卡时需遵守根据零售商的说明和规定。
Just Eat 不接受加密货币,但通过 Bitrefill 您可以用比特币或其他加密货币购买 Just Eat 礼品卡。然后可以在 Just Eat 使用此礼品卡
您可以轻松地将您的比特币或加密货币转换为 Just Eat数字礼物卡。
输入你想要的Just Eat 礼品卡金额 。
选择您要用于支付的加密货币,例如比特币、比特币闪电网络、以太坊、USDT、USDC、莱特币、狗狗币、达世币。或者,您可以使用 Binance Pay 进行支付。
一旦您的付款被确认,您将获得您的 Just Eat 礼品卡代码。
一旦您购买了 Bitrefill 的Just Eat 礼品卡,它几乎会立即通过电子邮件发送给您。或者您可以直接从结账页面兑换礼品卡。
如果您有其他的问题,您可以访问 我们的帮助中心 我们很乐意为您提供帮助。