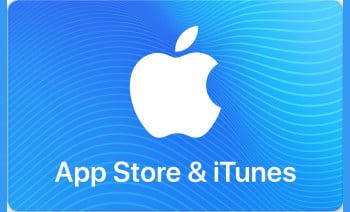 App Store & iTunes UAE 礼品卡
Purchase App Store / iTunes gift cards with Bitcoin, Ethereum, Litecoin, Dash and Dogecoin. ITunes gift cards can be used to purchase mobile apps and games like Hearthstone and The Sims. Use Bitcoin to pay for App Store subscriptions like Tinder, Hulu, and Apple services like iTunes Music and Movies.
This gift card can be used exclusively for App Store digital content (apps, games, music, iCloud storage, etc). This is not an Apple Store gift card.
One card, millions of ways to enjoy it. Use the App Store & iTunes Gift Card to get apps, games, music, movies, and TV shows. Available in a wide variety of categories - spend it on in-app content, books, TV program subscriptions, or even iCloud storage to secure files from all your Apple devices.
Go to appstore.com/redeem.
Scroll down and tap or tap Recover.
Enter the 16-digit code shown above.
Mohamed alsharafi
2019-11-10
iTunes & App Store and gift cards and codes associated with both platforms are subject to Apple's Terms and Conditions.
You can find iTunes gift card Terms and Conditions here: iTunes Gift Card T&C
2.

用加密货币付款

在大多数情况下,您的付款会在一分钟内确认
随时随地购买礼品卡
我们提供5,000+多种类型的礼品卡
---