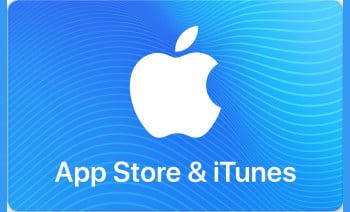 App Store & iTunes 礼品卡
此礼品卡可在电子商务平台上兑换
Buy App Store / iTunes gift cards with Bitcoin, Ethereum, Litecoin, Dash, and Dogecoin. iTunes gift cards can be used to purchase mobile apps and games like Hearthstone and The Sims. Use Bitcoin to pay for App Store subscriptions like Tinder, Hulu, and Apple services like iTunes music and movies.
🇩🇪
这个礼品卡只对目前在Germany
的用户有效
One card, millions of ways to enjoy it. Use the App Store & iTunes Gift Card to get apps, games, music, movies and TV shows. Available in a variety of denominations - spend it on in-app content, books, TV show subscriptions or even iCloud storage to secure files from all your Apple devices.
Visit appstore.com/redeem.
Scroll to bottom and click or tap Redeem.
Enter the 16-digit code shown above.
Worked Perfect and Fast
Card is working fine Legit Seller!
i cant reddem it
2022-04-04
i have try it it wont reddem i payed idk why
worked great and easy
paid with btc, transaction went through in a couple of seconds and received my product. 10/10 service, will definitely purchase from you again
Works perfectly!
Shopping experience easy and fast! Purchased with LTC.
Fast and reliable! A bit expensive tbh but that's fine.
Thanks Love Bitrefill Price is good Just Add PayPal Please. i will buy 1k more
Wow the shop is Awesome i was buyed a Itunes card 25€ and very fast Deliver, and the importants the Code was working ;) thank you
iTunes & App Store and gift cards and codes associated with both platforms are subject to Apple's Terms and Conditions.
You can find iTunes gift card Terms and Conditions here: iTunes Gift Card T&C
2.

用加密货币付款

在大多数情况下,您的付款会在一分钟内确认
随时随地购买礼品卡
我们提供5,000+多种类型的礼品卡
---