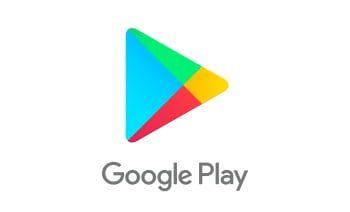 Google Play Korea 礼品卡
Buy Google Play gift cards with Bitcoin, Ethereum, and more. Google Play gift cards can be used to purchase mobile apps and games like Minecraft and Candy Crush. Use Bitcoin to pay for app subscriptions like Tinder, Netflix, and Google services like Google cloud storage, music, and movies.
🇰🇷
这个礼品卡只能在 South Korea使用
Power up in over 1M Android apps and games on Google Play, the world's largest mobile gaming platform. Use a Google Play gift code to go further in your favorite games like Clash Royale or Pokemon Go or redeem your code for the latest apps, movies, music, books, and more. There's no credit card required, and balances never expire. Treat yourself or give the gift of Play today.
On your Android phone or tablet, open the Play Store app. Tap the menu icon and select Redeem. On your laptop, go to play.google.com/redeem.
Enter gift code.
Start shopping! Your gift code value will be added to your Google Play balance.
Amounts too small Need 50,000 and 100,000krw
Zonaeid Khan Abir
2020-12-07
The service of providing gift card is awesome
개인정보 보호정책 및 전체 약관은 play.google.com/kr-card-terms를 참조하세요. 기프트 카드는 Google Commerce Limited에서 발행합니다. 만 13세 이상의 대한민국 거주자에게 유효합니다. Google 결제 계정 및 인터넷 액세스가 필요합니다. Google Play 크레딧 구매에만 사용할 수 있습니다. Google Play의 적격 항목에만 사용할 수 있습니다. 하드웨어 및 특정 구독에는 사용할 수 없습니다. 기타 제한 사항이 적용될 수 있습니다. 카드에는 수수료나 만료가 적용되지 않습니다. 법에서 요구하지 않는 한 카드는 현금 또는 기타 카드로 교환할 수 없습니다. 재장전 불가; 귀하의 Google Payments 계정에 있는 Google Play가 아닌 다른 잔액과 결합하거나 가치를 위해 재판매, 교환 또는 양도할 수 없습니다. 카드 분실에 대한 책임은 사용자에게 있습니다. 도움이 필요하거나 Google Play 카드 잔액을 보려면 support.google.com/googleplay/go/cardhelp를 방문하세요.
*****************************************************************
See play.google.com/kr-card-terms for privacy policy and full terms. Gift Card is issued by Google Commerce Limited. Valid for South Korea residents age 13+. Requires Google Payments account and internet access.
Can only be used for purchases of Google Play credits. Usable for eligible items on Google Play only. Not usable for hardware and certain subscriptions. Other Limits may apply. No fees or expiration apply to card. Unless required by law, card is not redeemable for cash or other cards; not reloadable; cannot be combined with other non-Google Play balances in your Google Payments account, resold, exchanged or transferred for value. User responsible for loss of card.
For help or to view Google Play card balance, visit support.google.com/googleplay/go/cardhelp.
2.

用加密货币付款

在大多数情况下,您的付款会在一分钟内确认
随时随地购买礼品卡
我们提供5,000+多种类型的礼品卡
---