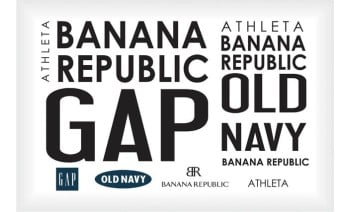 Gap Options 礼品卡
用加密货币支付 Gap Options 。用Bitcoin, Lightning, Ethereum, Binance Pay, USDT, USDC, Dogecoin, Litecoin, Dash买 Gap Options 礼品卡 .电子邮件即时交付。无需注册帐户。用加密货币生活!
The Options gift card provides customers and gift recipients with flexibility rarely seen in the retail marketplace. Now you can get a pair of jeans at Gap, a cashmere sweater at Banana Republic, a graphic tee at Old Navy, a handbag from Piperlime and a swimsuit at Athleta, all with the same gift card.
Gap options can also be used at Gap US, Banana Republic US, and Old Navy US.
Print this page and bring it to any of our stores to redeem or visit www.Gap.com to redeem online. Store Associate eGift Cards should be processed in the same manner as regular Gift Card tender. When prompted to swipe the Gift Card, scan the barcode above or key in the eGift Card number shown below the barcode. Follow all other standard policies and procedures for handling Gift Card transactions. Online Instructions At checkout, select add gift card and enter the 16-digit gift card number and 4-digit PIN exactly how they appear. Click Apply. You will see a confirmation message that the gift card value has been applied. You can apply up to five eGift Cards per order. To use another eGift Card, repeat steps 1-2 above.
This eGiftCard is issued by and represents an obligation of Direct Consumer Services ("DCS"). The eGiftCard may be redeemed for merchandise at any Gap, Old Navy, Banana Republic, or Athleta location, including Outlet and Factory stores. The eGiftCard may also be redeemed online for merchandise at gap.com, oldnavy.com, bananarepublic.com, or athleta.com. If you return merchandise originally purchased with an eGiftCard, any refund will be issued in the form of a plastic gift card issued by DCS which may be used at any of these stores or websites. Any merchandise purchased with an eGiftCard is subject to the applicable store or online return policies. Purchases will be deducted from the amount of this eGiftCard until the value reaches zero. This eGiftCard may not be used or redeemed with certain promotional offers and may not be applied as payment on any account. You may not use an eGiftCard to purchase other eGiftCards. Additional value may be added to this eGiftCard at any Gap, Old Navy, Banana Republic or Athleta store. Redeemable for cash when the balance is less than $5 or as otherwise required by law. Restricted to use in the USA, Puerto Rico and Canada. By purchasing this eGiftCard, you agree that the laws of the State of California, without regard to principles of conflict of laws, will govern this Agreement. Limit 5 eGiftCards redeemable per online transaction.
礼品卡怎样兑换
使用您喜欢的币付款
在大多数情况下,您的付款会在同一分钟得到确认。
就是这么简单,可以使用您的礼品卡啦!
兑换卡时需遵守根据零售商的说明和规定。
Gap Options 不接受加密货币,但通过 Bitrefill 您可以用比特币或其他加密货币购买 Gap Options 礼品卡。然后可以在 Gap Options 使用此礼品卡
您可以轻松地将您的比特币或加密货币转换为 Gap Options数字礼物卡。
输入你想要的Gap Options 礼品卡金额 。
选择您要用于支付的加密货币,例如比特币、比特币闪电网络、以太坊、USDT、USDC、莱特币、狗狗币、达世币。或者,您可以使用 Binance Pay 进行支付。
一旦您的付款被确认,您将获得您的 Gap Options 礼品卡代码。
一旦您购买了 Bitrefill 的Gap Options 礼品卡,它几乎会立即通过电子邮件发送给您。或者您可以直接从结账页面兑换礼品卡。
如果您有其他的问题,您可以访问 我们的帮助中心 我们很乐意为您提供帮助。