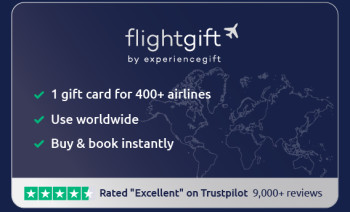 Flightgift EUR 礼品卡
The #1 gift card for flights worldwide since 2017. With over 400 international airlines and 980 destinations to choose from. Buy and book instantly. Quick and secure to purchase. No account required. With a Flightgift card from Bitrefill you can book your next flight with Bitcoin, Ethereum, Dash, Dogecoin, and Litecoin.
This gift code can be redeemed worldwide.
Flights with over 400 international airlines
Departures from 70 countries
980+ destinations worldwide
Instant delivery over email
Buy and book instantly
Choose to personalise with a photo & message
You will receive a gift code and instructions for how to redeem the code on our website. It's fast, easy and secure. Flightgift is an Experiencegift brand.
Go to flightgift.com and click on 'Book'
Select any flight of 400+ airlines
Enter your Flightgift value code on the payment page
Enjoy your trip!
Henrietta Yardley
2022-12-05
The buying process was quick and easy! The website looks simple to use, so I'm looking forward to redeeming my giftcard.
Bitrefill Buyer
2022-11-17
I used it to purchase a flight from Madrid to Berlin and it worked perfectly!
Work perfectly ! Smooth experience ! The only "flaw" if I can say is when you order your coupon, order the amount you need to pay, because the extra seems lost (or I don't know where it goes)
It works well. Does cost a bit more than traditional options. But it's expected/acceptable.
ça marche nickel & rapide :D
Perfect, works a charm, slightly overpriced but paying with crypto means its free, right?
This gift card can be redeemed worldwide
This gift card is only redeemable on the e-commerce platform
It is currently not possible to redeem several gift cards for one booking on Flightgift. However, their Customer Success team will be happy to help you redeem multiple gift cards for one booking. You can contact them here: https://www.flightgift.com/contact/
礼品卡怎样兑换
使用您喜欢的币付款
在大多数情况下,您的付款会在同一分钟得到确认。
就是这么简单,可以使用您的礼品卡啦!
兑换卡时需遵守根据零售商的说明和规定。
Flightgift EUR 不接受加密货币,但通过 Bitrefill 您可以用比特币或其他加密货币购买 Flightgift EUR 礼品卡。然后可以在 Flightgift EUR 使用此礼品卡
您可以轻松地将您的比特币或加密货币转换为 Flightgift EUR数字礼物卡。
输入你想要的Flightgift EUR 礼品卡金额 。
选择您要用于支付的加密货币,例如比特币、比特币闪电网络、以太坊、USDT、USDC、莱特币、狗狗币、达世币。或者,您可以使用 Binance Pay 进行支付。
一旦您的付款被确认,您将获得您的 Flightgift EUR 礼品卡代码。
一旦您购买了 Bitrefill 的Flightgift EUR 礼品卡,它几乎会立即通过电子邮件发送给您。或者您可以直接从结账页面兑换礼品卡。
如果您有其他的问题,您可以访问 我们的帮助中心 我们很乐意为您提供帮助。