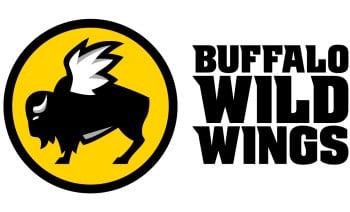 Buffalo Wild Wings 礼品卡
此礼品卡可在实体店兑换
Buffalo Wild Wings® is a sports bar with beer and wings and a crazy amount of TVs showing all the games. And rowdy fans and all the sauces for all the wings. Did we mention beer? Because we pour more beer than anyone in the country. So bring your friends, your outside voice and cheer on your favorite team to victory at any of our 1,200+ locations nationwide. Why aren't you here already? buffalowildwings.com
Buffalo Wild Wings® is a sports bar featuring everything from wings to appetizers to salads to burgers, with a wide variety of signature sauces and seasonings. We serve it up in a relaxed atmosphere where people like to hang out with friends and family and watch their favorite games on our big-screen TVs. With over 1,200 locations nationwide, it's easy to find a Buffalo Wild Wings® near you, but if you need some help, visit buffalowildwings.com.
FOR DINE-IN USE:
Print this page or have your eGift Card accessible on your mobile device.
Bring it to any Buffalo Wild Wings in the U.S. and present to your server at the time of payment.
FOR ONLINE/APP ORDERS:
During checkout, select "PAY WITH GIFT CARD" under "STEP 3: PAYMENT METHOD." Enter your 16-digit gift card number and 8-digit PIN.
Your eGift Card cannot be applied to third-party delivery orders. Protect this eGift Card like cash. Valid in the U.S. only. Any value remaining on this eGift Card can be used on future visits.
REDEMPTION INSTRUCTIONS FOR SERVER:
On the payment screen on the POS select "Gift Card" and then "Keyed Redeem"
When prompted on the payment device, carefully key in the 16-digit eGift card number and 8-digit PIN (if present)
TERMS & CONDITIONS:
This Card never expires and there are no fees. To get your balance, visit buffalowildwings.com. Purchase, use or acceptance of this Card constitutes acceptance of our Terms. This Card is redeemable for food, product, beverage or alcohol (where permitted by law) at participating Buffalo Wild Wings in the U.S. This Card is not refundable or redeemable for cash unless required by law. It is not reloadable or usable to purchase gift cards. Blazin Wings, Inc. is the Card issuer. This Card may not be resold without authorization. Blazin Wings, Inc. has the right to deactivate or reject Cards sold by unauthorized sellers or Cards involved in fraudulent activity. It will not be replaced if lost, stolen, or used without authorization. Other Terms apply, visit: buffalowildwings.com. ©2020 Buffalo Wild Wings
2.

用加密货币付款

在大多数情况下,您的付款会在一分钟内确认
随时随地购买礼品卡
我们提供5,000+多种类型的礼品卡
---