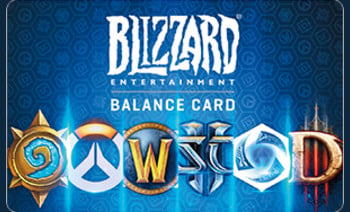 Blizzard, Battle.net, World of Warcraft Balance 礼品卡
Bitrefill's Blizzard Balance gift card lets you pay for Blizzard games and more with Bitcoin, Ethereum, Dash, Dogecoin, and Litecoin.
• Go to blizzard.com/code • Create a FREE Blizzard Account. If you already have one, log in. • Enter the code into the field provided. • Your Blizzard Balance is now charged and ready to spend on your Blizzard Game(s) of choice.
Hi, I would like to know if I could get a refund. I bought this card with in CAD and tough it might could work but it wont so I will never be able to use this card
I had my doubts, but I received a valid code, and fairly quickly. Thanks!
Super fast and extremely easy, first time buying something with ETH and, wow I feel like I'm in the future. you guys are awesome, thank you so much
segunda vez que compro y sin problemas!!
sin problema alguno
amir akbarzadeh
2021-01-07
hi i got blizzard balance usa , but my acc united kingdom , and i cant use this code , can you help me ?
Biteril is the best
Fast, reliable and easy service! Highly recommend. Bitrefill came in clutch!!!!
礼品卡怎样兑换
使用您喜欢的币付款
在大多数情况下,您的付款会在同一分钟得到确认。
就是这么简单,可以使用您的礼品卡啦!
兑换卡时需遵守根据零售商的说明和规定。
Blizzard, Battle.net, World of Warcraft Balance 不接受加密货币,但通过 Bitrefill 您可以用比特币或其他加密货币购买 Blizzard, Battle.net, World of Warcraft Balance 礼品卡。然后可以在 Blizzard, Battle.net, World of Warcraft Balance 使用此礼品卡
您可以轻松地将您的比特币或加密货币转换为 Blizzard, Battle.net, World of Warcraft Balance数字礼物卡。
输入你想要的Blizzard, Battle.net, World of Warcraft Balance 礼品卡金额 。
选择您要用于支付的加密货币,例如比特币、比特币闪电网络、以太坊、USDT、USDC、莱特币、狗狗币、达世币。或者,您可以使用 Binance Pay 进行支付。
一旦您的付款被确认,您将获得您的 Blizzard, Battle.net, World of Warcraft Balance 礼品卡代码。
一旦您购买了 Bitrefill 的Blizzard, Battle.net, World of Warcraft Balance 礼品卡,它几乎会立即通过电子邮件发送给您。或者您可以直接从结账页面兑换礼品卡。
如果您有其他的问题,您可以访问 我们的帮助中心 我们很乐意为您提供帮助。