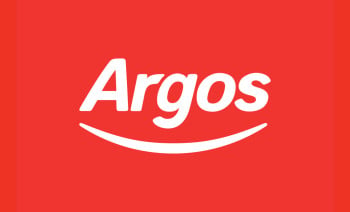 Argos 礼品卡
Argos is one of the most popular retailers in the UK, with over 883 locations and a thriving online store as well. You can find products of every description and category at Argos. With Bitrefill's Argos gift card you can now pay with Bitcoin, Ethereum, Dash, Dogecoin, and Litecoin.
🇬🇧

这个礼品卡只能在 United Kingdom使用
Argos Gift Card, the little card with big possibilities. Argos gift cards make the perfect gift for any occasion - birthdays, weddings or special events- everyone loves an Argos gift card. Whether you need to show your appreciation to staff, or reward customers for their business, using Argos gift cards lets them choose something they really want. That's what makes Argos gift cards the ideal way to say thank you.
You can use any type of Argos Gift Card online, as well as in-store. So that includes eGift Cards or physical Gift Cards (the plastic or cardboard type).
You just need to make sure the card number starts with 10000 and you've got a 4-digit security PIN. If your card doesn't have a 4-digit PIN, you can't use it online but you can still use it in-store.
Very happy, the process was smooth and efficient.
It woks like most other gift cards. You CAN (as of Q2 2021) spend the card in multiple txs, contrary to what stated in the Bitrefill T&Cs.
1. The Collection Code can only be used once and change will not be given if the value of your purchase is less than the value of the Collection Codes you are spending
2. The expiry date for the validity of this Collection Code is displayed in your text message, email or paper Collection Code
3. All items are subject to availability.
4. This Collection Code cannot be redeemed for cash or an Argos Gift Card
5. A maximum of 5 Collection Codes can be used in each transaction
5. Cash redemption value of the Collection Code is 0.001p/0.001c.
6. All customers agree to be bound by these terms and conditions.
7. The Collection Code can be redeemed only at participating Argos stores.
8. Issued by Argos Limited, Avebury, 489-499 Avebury Boulevard, Milton Keynes, MK9 2NW.
礼品卡怎样兑换
使用您喜欢的币付款
在大多数情况下,您的付款会在同一分钟得到确认。
就是这么简单,可以使用您的礼品卡啦!
兑换卡时需遵守根据零售商的说明和规定。
Argos 不接受加密货币,但通过 Bitrefill 您可以用比特币或其他加密货币购买 Argos 礼品卡。然后可以在 Argos 使用此礼品卡
您可以轻松地将您的比特币或加密货币转换为 Argos数字礼物卡。
输入你想要的Argos 礼品卡金额 。
选择您要用于支付的加密货币,例如比特币、比特币闪电网络、以太坊、USDT、USDC、莱特币、狗狗币、达世币。或者,您可以使用 Binance Pay 进行支付。
一旦您的付款被确认,您将获得您的 Argos 礼品卡代码。
一旦您购买了 Bitrefill 的Argos 礼品卡,它几乎会立即通过电子邮件发送给您。或者您可以直接从结账页面兑换礼品卡。
如果您有其他的问题,您可以访问 我们的帮助中心 我们很乐意为您提供帮助。