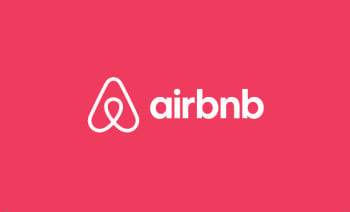 Airbnb 礼品卡
Bitrefill's Airbnb gift card lets you book your next stay and pay with Bitcoin and crypto.
Gift cards can only be redeemed and used worldwide by Spain residents with a Spain-based payment method on airbnb.es/regalo. Gift Cards can not be applied to long term reservations of 28 nights or longer & Airbnb may limit users from redeeming more than 9 gift cards per day.
Gift Airbnb. Incredible accommodations and fascinating experiences all over the world.

Give the perfect getaway: a few days in a cabin by a lake, in a house on a lost beach, or in an apartment in the city center.

Give unforgettable experiences with local experts, such as a guided tour, a tasting... You decide! There are endless activities available.

Airbnb gift cards never expire. You can use them to book accommodations or experiences and apply them to one or several reservations.
Sign up or log in at airbnb.es/regalo
Follow the instructions
We will automatically apply the credit when you make a reservation.
Funciona genial. Me llegó el código al instante y lo usé sin problemas. Muy cómodo y rápido.
Great product, easy to use, 100% recommended.
"Spain" doesn't mean this card works for stays in Spain. It means you cannot use it unless Airbnb has you registered as resident of Spain.
I just used to book an apartment in Málaga. Super easy to use at no additional cost, love it! La acabo de usar para reservar mi apartamento en Málaga. Muy fácil de usar sin ningún coste adicional, ¡me encanta!
Funciona perfectamente y se puede usar para reservar un apartamento en cualquier lugar del mundo siempre que se tenga una cuenta de Airbnb España.
Card balance does not expire.

No fees apply to purchase or activate this Card.
Redeemable by Spain residents towards the purchase of eligible goods and services on the Airbnb website and app.
Use requires an Airbnb account.

Card is non-reloadable and, except where required by law, cannot be redeemed for cash, refunded, returned, or resold. Issuer is not responsible for lost, damaged, or stolen cards, or for unauthorized use.
View Card balance by signing in to your Airbnb account.
In the EEA, Gift Cards are issued by:

Airbnb Ireland UC
8 Hanover Quay
Dublin 2, D02 DP23
Ireland


Obtain Gift Card or balance information by signing in to your Airbnb account, or by contacting us from Spain at +34 911234567


Términos y condiciones
El saldo de la tarjeta no caduca.

No se aplican cargos por la compra o activación de esta tarjeta.
Se puede canjear por residentes de España para la compra de bienes y servicios elegibles en el sitio web y la aplicación de Airbnb.
Se requiere una cuenta de Airbnb para usarla.

La tarjeta no se puede recargar y, salvo donde lo exija la ley, no se puede canjear por dinero en efectivo, reembolsar, devolver o revender. El emisor no se hace responsable por las tarjetas perdidas, dañadas o robadas, ni por su uso no autorizado.
Consulte el saldo de la tarjeta iniciando sesión en su cuenta de Airbnb.
En la EEE, las tarjetas regalo son emitidas por:

Airbnb Ireland UC
8 Hanover Quay
Dublín 2, D02 DP23
Irlanda


Obtenga información sobre la tarjeta regalo o el saldo iniciando sesión en su cuenta de Airbnb o poniéndose en contacto con nosotros a través del telefono +34 911234567

Visite el enlace arribar para leer los términos y condiciones completos.
礼品卡怎样兑换
使用您喜欢的币付款
在大多数情况下,您的付款会在同一分钟得到确认。
就是这么简单,可以使用您的礼品卡啦!
兑换卡时需遵守根据零售商的说明和规定。
Airbnb 不接受加密货币,但通过 Bitrefill 您可以用比特币或其他加密货币购买 Airbnb 礼品卡。然后可以在 Airbnb 使用此礼品卡
您可以轻松地将您的比特币或加密货币转换为 Airbnb数字礼物卡。
输入你想要的Airbnb 礼品卡金额 。
选择您要用于支付的加密货币,例如比特币、比特币闪电网络、以太坊、USDT、USDC、莱特币、狗狗币、达世币。或者,您可以使用 Binance Pay 进行支付。
一旦您的付款被确认,您将获得您的 Airbnb 礼品卡代码。
一旦您购买了 Bitrefill 的Airbnb 礼品卡,它几乎会立即通过电子邮件发送给您。或者您可以直接从结账页面兑换礼品卡。
如果您有其他的问题,您可以访问 我们的帮助中心 我们很乐意为您提供帮助。