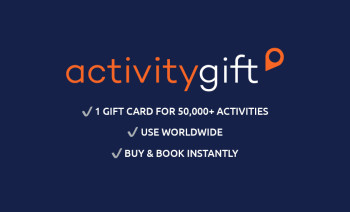 Activitygift EUR 礼品卡
Choose from over 50,000 activities at 680+ locations in more than 160 countries worldwide. Buy and book instantly. Quick and secure to purchase. No account required. With an Activitygift card from Bitrefill, you can book your next flight with Bitcoin, Ethereum, Dash, Dogecoin, and Litecoin.
This gift code can be redeemed worldwide.
Over 50,000 activities worldwide
Available in 680+ locations
Instant delivery over email
Buy and book instantly
Choose to personalize with a photo & message
You will receive a gift code and instructions for how to redeem the code on our website. It's fast, easy and secure. Activitygift is an Experiencegift brand.
Go to activitygift.com and click on 'Book'
Select any activity from 50,000+ options
Enter your Activitygift value code on the payment page
Enjoy your trip!
2.

用加密货币付款

在大多数情况下,您的付款会在一分钟内确认
随时随地购买礼品卡
我们提供5,000+多种类型的礼品卡
---